Cardozo School of Law in New York City
Bringing Law To Life


Who We Are
Leaders in Public Service and Experiential Learning

Cardozo is ranked #11 in the country in Public Interest Law by PreLaw Magazine. Our clinics, field clinics and externships comprise one of the most robust experiential learning programs in the country. 

The Innocence Project, the Civil Rights Clinic, the Perlmutter Freedom Clinic, the Kathryn O. Greenberg Immigration Justice Clinic, the Housing Justice Field clinic put students on the frontline of justice. The Filmmakers Legal Clinic, the Tech Startup Clinic, and the Fashion Law Practicum put students in business. Our students build connections to become outstanding lawyers.

Committed to Diversity, Equity & Inclusion

Diversity and inclusion are central values at Cardozo School of Law. We strive to provide a welcoming community to all students, and we are pleased that over 35% the Class of 2026 identifies as an underrepresented minority. We also offer an educational curriculum that provides deep insight into structural racism and its impact on society, the law, and civil and criminal legal systems. The Deans Council on Diversity and Inclusion, the Associate Dean for Equity in Curriculum and Teaching and the Dean of Students lead these efforts.

Creative Lawyers for Creative Businesses

Cardozo's renowned Intellectual Property Program is home to: The FAME Center for Fashion, Art, Music & Entertainment Law; The Tech Startup Clinic; The Filmmakers Legal Clinic; The Blockchain Project; The Cardozo Data Law Initiative; and the Patent Diversity Project.

 

A Caring and Engaged Faculty

Professors here will know your name. They are passionate advocates teaching their students to change clients' lives, build better businesses and to fight for justice. Cardozo is ranked 33rd in the nation for faculty scholarship impact.

Photo: Professor Myriam Gilles, #5 most cited civil procedure scholar in the U.S.
Our Areas of Study
Learn more about our top-ranked programs, including coursework, clinics, externships and events.
Upcoming Events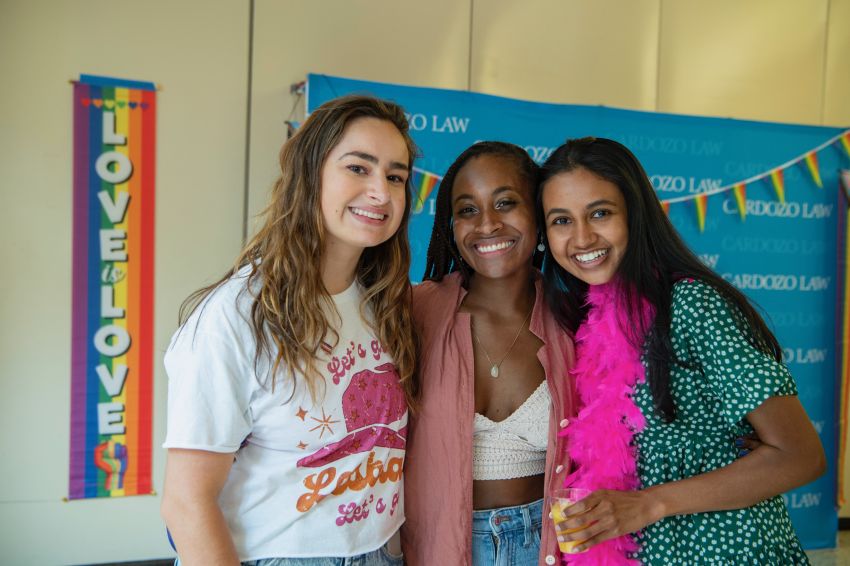 Conferences

Open to public

09:30 AM - 03:00 PM

Center for Rights & Justice

Open to public

04:00 PM - 05:30 PM

Programs and Centers

Open to public

12:00 PM - 01:00 PM
The Perlmutter Center for Legal Justice at Cardozo
Training Lawyers To Prevent the Use of Junk Science in Court Cases

The Perlmutter Center for Legal Justice at Cardozo Law teaches the correct use of science in court cases, and works to identify and correct overly harsh sentences in the justice system. The Perlmutter Freedom Clinic at Cardozo Law seeks justice for the unjustly incarcerated, winning several clemency cases recently for incarcerated individuals who served decades long sentences for non-violent drug felonies. The Perlmutter Forensic Science Education Program, will provide legal education curriculum in scientific evidence designed for practicing attorneys.
A History of Criminal Justice Reform
Birthplace of Innocence Project

"We must use our power as lawyers to speak up when others are silenced. We must raise our voices in defense of those who are victimized by racism, anti-Semitism and prejudice of any kind." -

Dean Melanie Leslie
Leaders in Dispute Resolution
The Kukin Program for Conflict Resolution

Cardozo's Dispute Resolution Program's mission is to develop modern-day problem solvers who can skillfully use dispute resolution processes to benefit their clients and society. The Kukin Program for Conflict Resolution was one of the first alternative dispute resolution programs in the country and the Cardozo Journal of Conflict Resolution is one of the top ADR journals in the country.
Cardozo Life Magazine
Fall 2022 Issue- The Power of Clinics

It's been an exciting year of growth at Cardozo. The Fall 2022 issue of Cardozo Life examines the hard work and achievements of our clinical faculty and students. Learn more about Cardozo's innovative experiential learning program, one of the most robust in the country. The issue also covers: 

 

-Launch of the $15M Perlmutter Center for Legal Justice
-Six New Cardozo Professsors 
-Cardozo Faculty Scholarship
-Cardozo Faculty in the Media 
-Q & A with Renowned Torts Expert Professor Myriam Gilles
-Cardozo Professors' Perspectives on the Overturning of Roe V. Wade
Our Global Alumni Network
U.S. States, Plus D.C. and Puerto Rico