Cardozo School of Law in New York City
Bringing Law To Life


Who We Are
Creative Lawyers for Creative Businesses

Our renowned Intellectual Property Program is ranked No. 8 in the country and No. 2 in NYC by U.S. News & World Report. The FAME Center for fashion, art, media and entertainment law teaches brand protection. The Tech Startup Clinic and The Filmmakers Legal Clinic provide unique opportunities for students to represent clients. The Blockchain Project and the Data Law Initiative are leaders at the intersection of law and technology. The Cardozo/Google Patent Diversity Project expands patent protections for women and entrepreneurs of color.

 

A Caring Faculty with Impact

Cardozo Law School's faculty ranks 33rd in the nation for scholarly impact, according to the newly released version of the Leiter Scholarly Impact Score. Cardozo's faculty is ranked No. 22 in the country for scholarly impact by Heald & Sichelman's academic impact rankings of 100 American law schools.

Photo: Professor Myriam Gilles, specializing in class action is the 5th most cited civil procedure scholar in the US.

A Leader in Experiential Learning

Cardozo offers 11 Clinics,16 Field Clinics and numerous externship opportunities that provide a real-world edge in a competitive legal landscape. Choose from the Innocence Project, the Civil Rights Clinic or the Housing Justice Field clinic for public service, or from the Filmmakers Legal Clinic, the Tech Startup Clinic, or the Fashion Law Practicum to understand business and IP law. You will experience working in the legal field as you learn from experts in practice, for a decisive advantage toward your future success as a lawyer.

A Commitment To Diversity, Equity & Inclusion

At Cardozo we believe that inclusion is a cornerstone of legal education and that diversity advances the entire legal system. Cardozo has added classes in race and the law and our faculty voted to incorporate the study of racism in the legal system throughout the full curriculum. Understanding how the law has been used to marginalize different groups historically is a powerful tool, and a critical part of today's legal education.
Our Areas of Study
Learn more about our top-ranked programs, including coursework, clinics, externships and events.
A History of Criminal Justice Reform
Birthplace of Innocence Project

"We must use our power as lawyers to speak up when others are silenced. We must raise our voices in defense of those who are victimized by racism, anti-Semitism and prejudice of any kind." -

Dean Melanie Leslie
Upcoming Events at Cardozo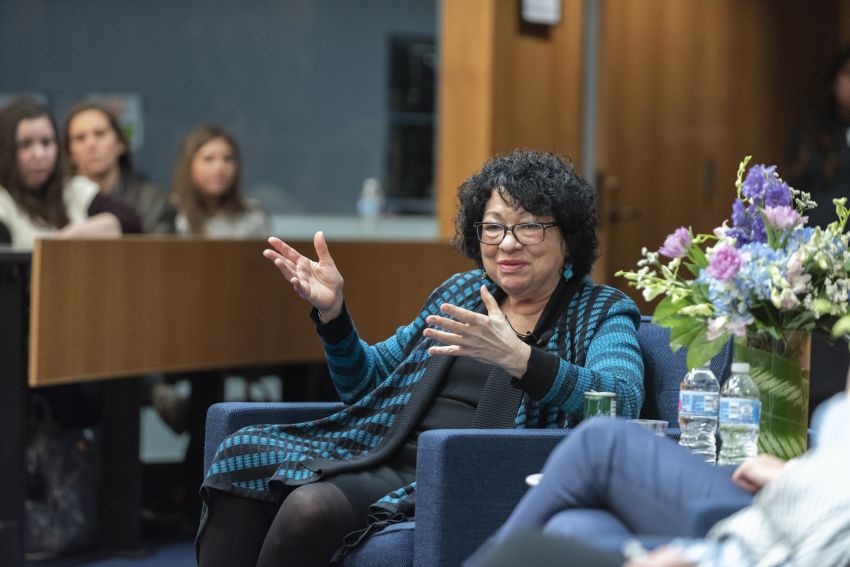 Cardozo Life Magazine
Fall 2022 Issue- The Power of Clinics

It's been an exciting year of growth at Cardozo. The Fall 2022 issue of Cardozo Life examines the hard work and achievements of our clinical faculty and students. Learn more about Cardozo's innovative experiential learning program, one of the most robust in the country. The issue also covers: 

 

-Launch of the $15M Perlmutter Center for Legal Justice
-Six New Cardozo Professsors 
-Cardozo Faculty Scholarship
-Cardozo Faculty in the Media 
-Q & A with Renowned Torts Expert Professor Myriam Gilles
-Cardozo Professors' Perspectives on the Overturning of Roe V. Wade
Our Global Alumni Network
U.S. States, Plus D.C. and Puerto Rico
The Perlmutter Center for Legal Justice at Cardozo
Training Lawyers To Prevent the Use of Junk Science in Court Cases

The Perlmutter Center for Legal Justice at Cardozo Law is designed to teach lawyers how to use science in court cases, and to identify and correct the harsh reality of misused scientific evidence in the justice system. It has two parts: The Perlmutter Freedom Clinic at Cardozo Law works on overturning cases for incarcerated individuals who were prosecuted using poor scientific evidence; and The Perlmutter Forensic Science Education Program, which is an ambitious continuing legal education curriculum in scientific evidence designed for practicing attorneys. Cardozo is a pioneer in scientific evidence, building on e decades-long success of Cardozo's Forensic Science College.
Cardozo Law Receives Top Grades from preLaw Magazine
Alternative Dispute Resolution

Business Law

Intellectual Property

International Law

Racial Justice 

Trial Advocacy

 

Criminal Law

Family Law

Practical Training

Public Advocacy 

Public Policy Law