Cardozo Law students participate in a variety of student organizations that reflect the diverse and distinctive student body. These organizations often collaborate with programs and centers to host events and symposia, and each group selects its leadership and activities. 
The  Student Bar Association (SBA), Cardozo's student government, is an umbrella organization that oversees student groups and organizations. The SBA determines the budget of each approved student group and ensures that funds are spent properly. 
Our student organizations include:
American Constitution Society 
Art Law Society 
Asian Pacific American Law Students Association (APALSA) 
Black Law Students Association (BLSA) 
Business Law Society 
Cardozo Advocates for Kids (CAK) 
Cardozo Criminal Law Society (CCLS) 
Cardozo Democrats 
Cardozo Dispute Resolution Society (CDRS) 
Cardozo Environmental Law Society (CELS) 
Cardozo For Immigrants' Rights and Equality (FIRE) 
Cardozo International Law Society (CILS) 
Cardozo Jurist 
Cardozo Labor and Employment Law Society (CLELS) 
Cardozo Law & Internet Club (CLIC) 
Cardozo Sports Law Society (CSLS) 
Cardozo Startup Society 
Cardozo Student Mentors (May and Fall Students) 
Cardozo Students for Human Rights 
Cardozo Women's Law Initiative (WLI) 
Courtroom Advocates Project 
Entertainment Law Society 
Family Law Society 
Fashion Law Society 
Federalist Society 
Gaming Law Society 
Interactive Entertainment Law Society 
Jewish Law Students Association (JLSA) 
Korean American Law Students Association (KALSA) 
Latin American Law Students Association (LALSA) 
Law Revue 
Louis D. Brandeis Center for Human Rights Under Law, Cardozo Chapter 
Minority Law Student Association (MLSA) 
Muslim Students Association (MSA) 
National Lawyers Guild (NLG) 
OUTlaw 
Philosophy and Law Society (PALS) 
Real Estate Law Association (RELA) 
Southeast Asian Law Students Association (SALSA) 
Student Animal Legal Defense Fund (SALDF) 
Suspension Representation Project (SRP) 
Tax Law Society 
Unemployment Action Center (UAC) 
Women in Tech Law (WiTL)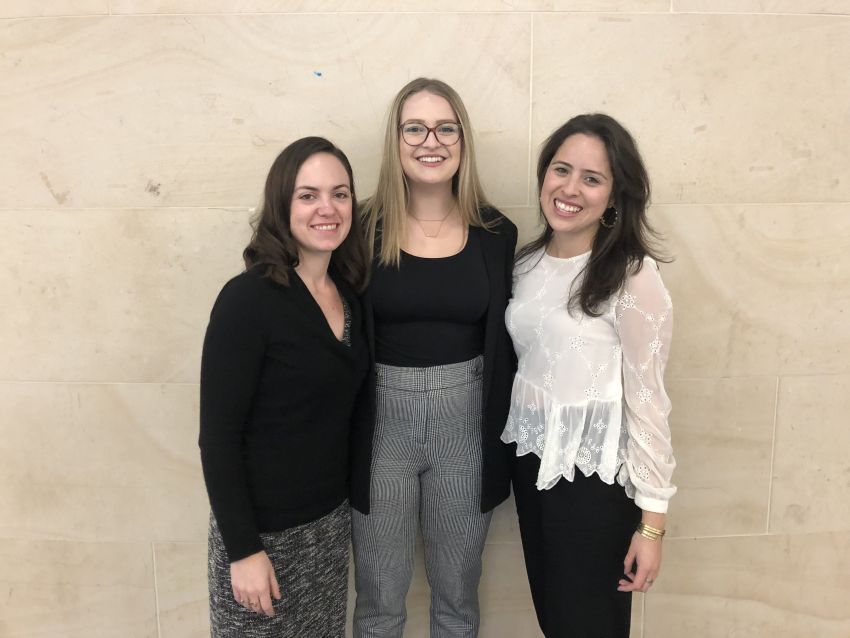 Women in Tech Law (WiTL) Founders
Women in Tech Law (WiTL) Founders
From left: WiTL founders and 2Ls Leah Murphy, Rebecca Kravitz and Andrea Wrisley.