Cardozo offers student housing at The Benjamin, one subway stop away at Lexington Avenue and 29th Street. It offers fully-furnished, air-conditioned units ranging from studios to three-bedrooms.
The Benjamin
Cardozo Law School opened its newly updated residence hall, The Benjamin, in fall 2016. The Benjamin is a university-owned eight-story building on Lexington Avenue and 29th Street in Manhattan in the midtown-east neighborhood known as Rose Hill, a 10-minute subway ride from the law school. Students may apply for three kinds of furnished rooms, all of which have air conditioning, WiFi, smart TVs, and access to a laundry room, exercise room, a large ground-floor common area with comfortable lounge seating, a top-floor solarium study room, and a rooftop patio with views of the city.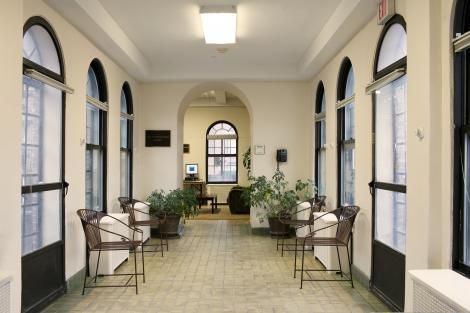 Information regarding housing for students who are interested in living in the Benjamin beginning August 2023 will be available in early April.  
* Please see below for information pertaining to the 2022-2023 academic year for reference only.
ELIGIBILITY: 
Entering students receive priority for The Benjamin. Both Fall and May-entering students are eligible to apply. In certain cases non-students may qualify to share apartments with students. 
AVAILABILITY: 
Apartments in The Benjamin for the 2022-2023 academic year will be available beginning August 14, 2022. Housing assignments in The Benjamin are for one academic year and every student will be required to sign an occupancy agreement for the 10-month period.
HOW TO APPLY:
The Benjamin 2022-2023 Housing Application will be available online on May 9, 2022 in the Yeshiva University Housing Portal and requires you to submit a $300 deposit. The housing deposit will be applied toward your first-term housing charge should you receive a housing assignment in The Benjamin. Please Note: Only students who have submitted a tuition deposit will be considered for housing in The Benjamin. The priority deadline for applying is May 20, 2022. 
THE BENJAMIN HOUSING ASSIGNMENTS: 
Apartments will be assigned on a first-come, first-served basis. Should you be interested in a specific room type, you are encouraged to submit an application as early as possible. We will make every effort to accommodate as many housing requests as possible. In addition to requesting a certain size apartment, you may request a specific roommate or have a roommate assigned to you. The university reserves the right to determine the priority for the assignment of housing in The Benjamin.
NOTIFICATION: 
Students who apply by the Priority Deadline of May 20, 2022, will receive their assignments by June 1, 2022.  Instructions for accepting your assignment through the Yeshiva University Housing Portal will be given at the time of your offer. Applications submitted after May 20 will be processed and assignments will be distributed on a rolling basis. Students who are admitted to the Law School after the May 20, 2022 priority application deadline will be eligible to apply for housing in The Benjamin. Assignments will be made on a space-available basis. If no space is available, students can place their names on a waiting list for The Benjamin.
Housing deposits for the Benjamin will be refunded to students under any of the following circumstances: 
The University is not able to accommodate a student's request for housing in The Benjamin; or the student accepts the spot in the Benjamin but then withdraws from Cardozo, in writing, prior to August 1, 2022.
If you have any questions about living in the Benjamin, please contact Rachel Haber at thebenjamin@yu.edu. 
Off-Campus Accommodations
Many students find housing in Greenwich Village, Tribeca, SoHo, and other neighborhoods near the Cardozo campus. The school is conveniently accessible to many bus and subway lines, and is a short subway or bus ride to Penn Station and Grand Central Station. Students can commute easily from other New York neighborhoods. 
Additionally, there are organizations in New York City that specialize in providing temporary or long-term housing to students and interns. Some of these resources are listed below.
Finding an Apartment or Roommate
Members of the Cardozo community may list their available apartments and/or interest in finding a roommate by joining their entering-class Facebook group, which you will be invited to join later this spring.