Gifts of all sizes make a significant difference in areas such as scholarships, public interest, faculty support and academic programs. You may direct your contribution to any area of your choosing. Secure Cardozo's position at the forefront of legal education as a thriving center for public forums and as an advocate for justice initiatives.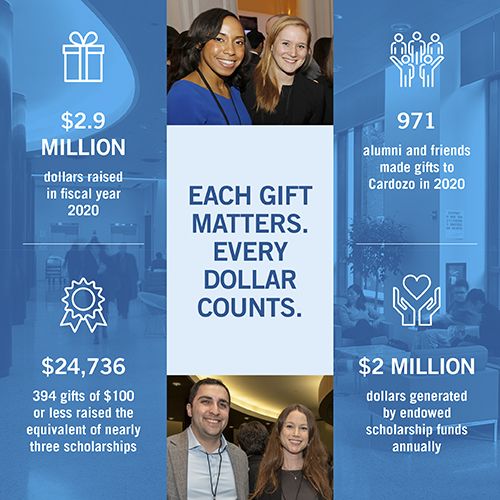 How to Give
Make a one-time credit card gift or establish a recurring payment monthly, quarterly, or annually
Check 
Please make checks payable to: "Benjamin N. Cardozo School of Law" and mail to:
Cardozo School of Law, P.O. Box 21801, New York, NY 10087-1801
*Include how you wish your name to be listed in publications and your relationship to Cardozo (alumnus/a, parent, friend, etc.)
*Include your desired designation of your gift from our Funding Priorities (i.e. Annual Fund, Dean's Discretionary Fund,  Public Interest Stipends, etc.)
Credit Card
Online via Cardozo's giving website
By phone at (646) 592-6880
Monday - Friday
9 a.m. – 5:30 p.m. Eastern Time
By returning a gift/pledge card filled out with an account number, expiration date, amount, and signature to: Cardozo School of Law, P.O. Box 21801, New York, NY 10087-1801
Wire Transfer
Follow these instructions for a wire transfer.
Planned Gifts
Making a planned gift may allow you to benefit from tax advantages or income for life. Planned or deferred gift options include bequests, annuities and trusts, as well as gifts of real estate, life insurance, and pensions. Please notify Cardozo of existing planned gifts in the law school's name by contacting Director of Stewardship and Foundation Relations, Nancy Kominsky, at kominsky@yu.edu.
Matching Gifts 
Many employers offer a matching gift program to their employees and their spouses. For more information, contact your employer's human resources department or email us at cardozofund@yu.edu. Be sure to include your company's matching gift form when sending your contribution to Cardozo.
You can also see if your employer matches gifts on our giving website when you click "Your Company May Match Gifts – Find Out Below!"
*Please note that your company may have Cardozo listed under "Benjamin N. Cardozo School of Law" or "Yeshiva University."
Securities
Gifts of securities can provide attractive tax advantages: capital gains taxes may be avoided and the full market value of the stock may be tax deductible. Information about how to make a gift of securities is available here. Contact us at with any additional questions at cardozofund@yu.edu or (646) 592-6880.
Funding Priorities
Cardozo's Annual Fund
Annual Fund donations provide unrestricted funding so they can be applied to wherever they are needed most at the Law School. We ask alumni, friends and family to give what they can, but more than that, we ask everyone to give something every year. Taken together, these individual gifts can become a transformative donation for Cardozo and make an immediate difference in the life of this its students.
Dean's Discretionary Fund
The Dean's Discretionary Fund is used at the Dean's discretion to take advantage of opportunities and face challenges as they arise during the academic year. Unrestricted gifts to this fund provides flexibility to support immediate needs benefiting students, faculty, and the entire Cardozo community.
Public Interest Summer Stipends
Public interest summer stipends support a growing number of Cardozo students who accept otherwise unpaid jobs in public interest organizations and agencies, in government, in the judiciary and providing legal services to the underserved.
Students in Action Fund
When it launched, SAF's goal was to enhance the student experience by providing students valuable educational development and professional growth opportunities outside of Cardozo's classrooms. Now, in these unprecedented circumstances, the Students in Action fund services as a critical emergency relief fund for students, with the goal of providing immediate financial assistance in the wake of COVID-19.
FINANCIAL AID SUPPORT:
Alumni Scholarship Fund  
The Alumni Scholarship Fund is crucial in bridging the gap for so many deserving students to ensure their quest for a legal education. Scholarship support is a reflection of the commitment to help the next generation of Cardozo alumni, to remain dedicated to Cardozo's diversity and to Cardozo's pursuit of being bold and forward-thinking in a welcoming supportive community.
Black Asian Latino Law Students Association (BALLSA) Scholarship Fund
This fund is a need-based scholarship awarded to a student who has overcome hardship and has distinguished themself by making a contribution to the work of the Diverse Student Associations at Cardozo.
Cardozo Fund for LGBT Rights
Awarded as the Paris Baldacci Scholarship, named after beloved Professor Paris Baldacci, the Fund for LGBT Rights is awarded to a Cardozo third-year JD student or an LL.M. student who, during their time at Cardozo, has done exemplary work related to lesbian, gay, bisexual, transgender, queer, two-spirit, non-binary, or intersex rights in a clinic, a credited externship, or through non-credited work, such as student organizing and activism, or through pro bono experience.
Cardozo Women Scholarship
Cardozo Women is dedicated to acknowledging alumnae accomplishments, creating a network of natural allies and celebrating the remarkable strides made by Cardozo. The group has endowed a scholarship fund to support exceptional women students.
Class Gift
The Class Gift Program, which began in 2006, is a time-honored tradition in which graduating students encourage fellow classmates to make a gift to the Law School in honor of their class year.
Why is it important to give to Cardozo?
Your support to the Law School ensures that Cardozo will continue to educate and inspire students who, in turn, will help shape Cardozo's legacy. It is also a wonderful opportunity to show your Cardozo pride with a donation in honor of your class.
Why give now?
A strong culture of giving among students, and alumni, is crucial to Cardozo's continued growth and success. A gift to Cardozo now reinforces your commitment to the future of the Law School.
Your participation recognized:
All graduating students who participate will receive a 'thank you gift' for their support. Each year, the student led Class Gift Committee decides this item.
During the Awards and Honors Ceremony in the spring, the Class Gift Co-Chairs present the Dean with an oversized mock check representing the total funds raised to date. 
In the fall semester, each class's success is added to a plaque in the Kathryn O. and Alan C. Greenberg Center for Student Life, highlighting and honoring their efforts.
If you have any questions or would like to get involved in the Class Gift program, please contact cardozofund@yu.edu.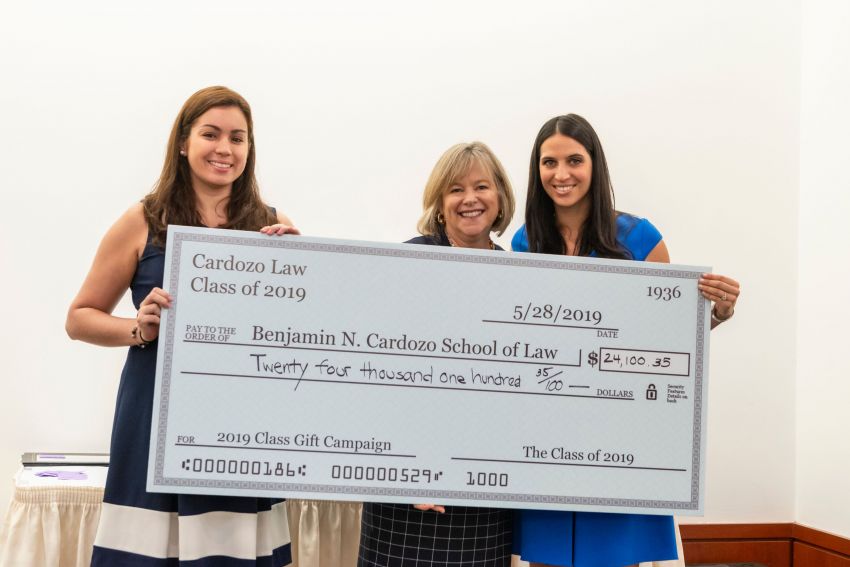 FAQs
More than 1'000 companies offer matching gift programs that can double, or even triple your gift to Cardozo. Please check with your human resources department or email our staff at cardozofund@yu.edu if you would appreciate assistance. 

You will receive a tax receipt via mail within four weeks of making your gift. If you have any questions, or to request a duplicate receipt, please email cardozofund@yu.edu or (646) 592-6880.

 

Yes, this is a wonderful way to recognize someone who had an impact on your intellectual, personal, and/or professional development. We notify the person who you honor (or their family in cases when the gift is in memory of someone).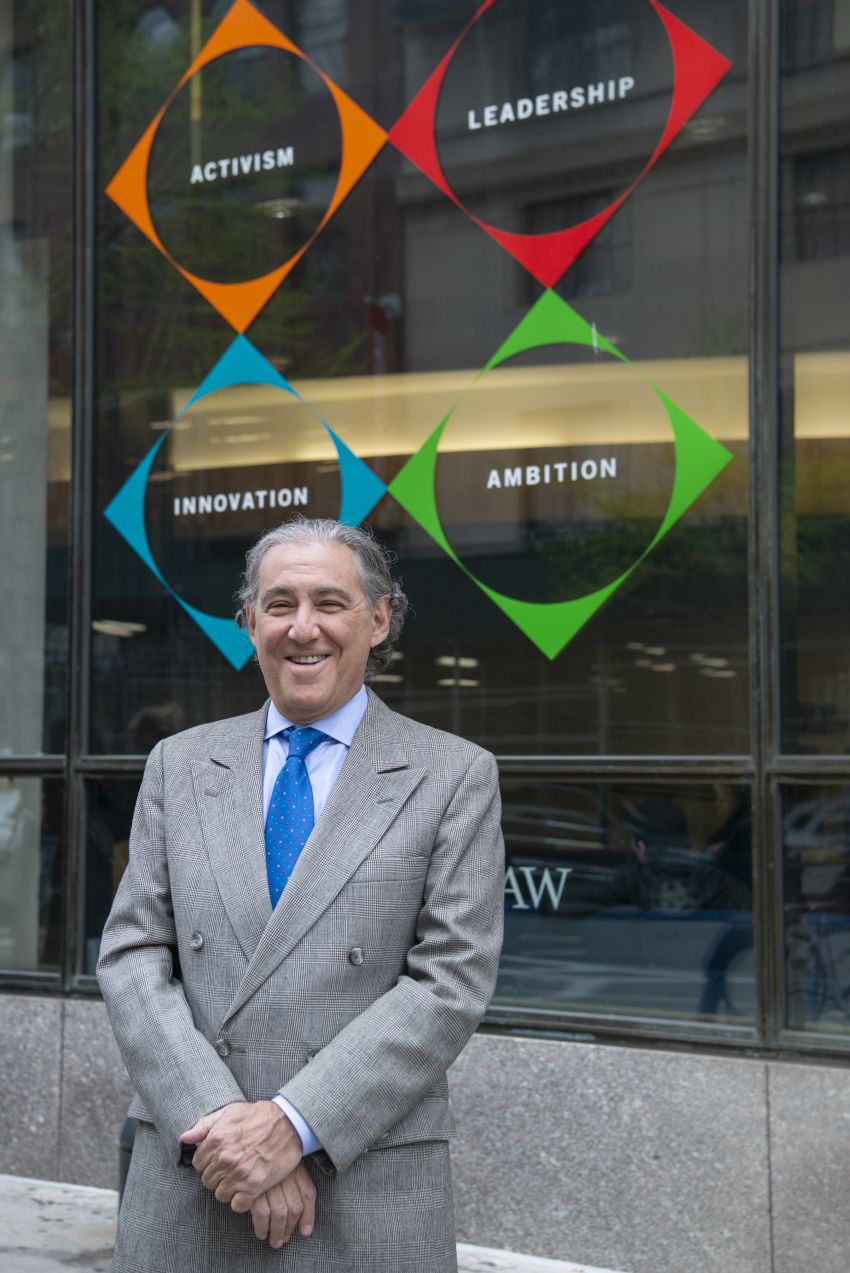 Charles M. Mirotznik '79
Donor Spotlight
Charles M. Mirotznik '79, a graduate of Cardozo's inaugural class, recently established the Charles M. Mirotznik, Esq. Scholarship Fund at Cardozo. The fund honors Mirotznik's parents, Bernard and Rosalyn. Their commitment to the education of their children -- all of whom became lawyers -- was instrumental in providing a strong foundation for future generations.
Cardozo Institutional Advancement and Alumni Affairs Team