Cardozo School of Law is consistently recognized as a leader in intellectual property and information law. Cardozo Law's IP program offers theory and practical training to students from all backgrounds, who thrive on developing answers that meet current legal problems. The school's focus on emerging technology, data, privacy, fashion and entertainment law demonstrates its commitment to remain at the forefront of legal issues that arise as innovation continues to shape the intellectual property world. Practical opportunities include the Filmmakers Legal Clinic, the Tech Startup Clinic, and the Cardozo-Google Patent Diversity Project.
One of the Most Robust IP Programs in the Country
Cardozo is at the forefront of debates over ownership and legal protection for intellectual property in the digital age.
Our Intellectual Property Faculty
Cardozo Hosts 2023 Intellectual Property Scholars Conference
Featuring nearly 200 professors, lawyers from private practice and industry, and government and public policy professionals, Cardozo School of Law hosted the 2023 Intellectual Property Scholars Conference (IPSC) on August 3-4.  
The conference, which began over two decades ago, is now among the largest annual gatherings of academics who study intellectual property and related issues. IPSC 2023 included multiple parallel tracks on subjects ranging from patent, trademark, and copyright law to cross-cutting issues such as empirical analysis of the law and the challenges of artificial intelligence technologies.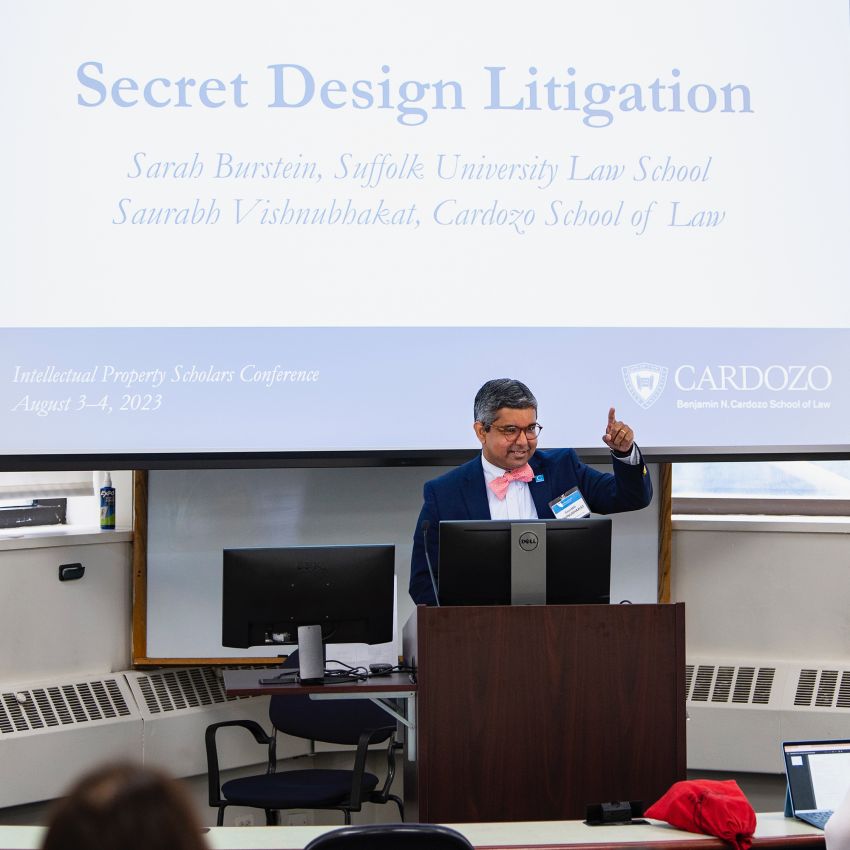 Cardozo's intellectual property program is more than a selection of academic offerings. I was part of a thriving community of classmates, alumni, and faculty who supported me in discovering intellectual property and navigating the industry. I received so much practical training through my simulation courses that I was able to work with trademark portfolios for some of the world's leading companies at my first job out of law school at Kilpatrick Townsend. I built a strong network of intellectual property peers and mentors by participating in Cardozo's events and mentoring opportunities.
Anna Antonova '21
Law Clerk, Kilpatrick Townsend & Stockton LLP