The Floersheimer Center for Constitutional Democracy is a vibrant center for scholarship and events, advancing the functioning of constitutional democracies in the United States and abroad.
Established in 2000 through a gift from Dr. Stephen Floersheimer, the center supports research by scholars and policymakers, hosts speakers and conferences, issues publications, and provides financial support for visiting scholars as well as student projects. Topics of particular concern include civil liberties in an age of terrorism, the structures of democratic government, and the relationship between church and state.
The center's Co-Directors for the Fall 2020 semester are Professor Michelle Adams and Professor Deborah Pearlstein.
Cardozo's constitutional law faculty members, including Michelle Adams, Michael Herz and Kate Shaw, provide commentary on landmark U.S. Supreme Court cases in the Cardozo Benchmarks video series.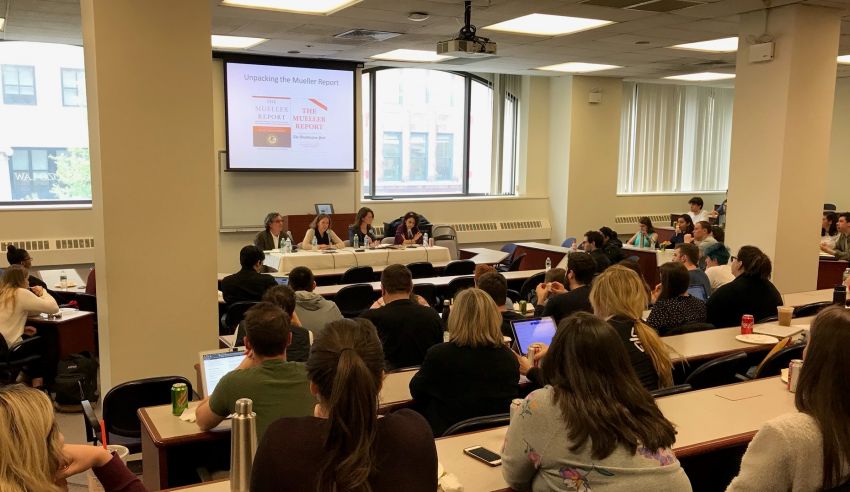 Upcoming Events
All events during the Fall 2020 semester will be held virtually.
The Center is co-sponsoring the Cardozo Law Review's re-scheduled Spring 2020 symposium on affirmative constitutional rights, Fault Lines in the Constitution.
The Symposium has been reconstituted as three virtual panels:
Sept. 25th, 12:00 p.m., Environmental Affirmative Rights in the 21st Century
Sept. 29th, 11:00 a.m., Sources of Affirmative Rights
Oct. 12th, 12:00 p.m., Understanding and Interpreting Affirmative Rights: The U.S. Constitution and Beyond
Register for all three panels here. CLE is available, see the Eventbrite for more information.
-----
On Oct. 5th, the Center will host our Annual Supreme Court Term Preview with Cardozo Professors Felix Wu, Alex Reinert, and Rebecca Ingber.
Visitors and Fellows
The center invites a small number of Distinguished Fellows to be in residence for two to four weeks during the academic year. Fellows are provided an office, secretarial assistance, travel and living expenses, and an honorarium. While at Cardozo, they contribute in such ways as teaching a mini-course, giving a faculty workshop or public lecture, guest teaching another professor's course, or providing an article to a Cardozo journal. In addition, the center occasionally sponsors a semester-long visit by a prominent constitutional scholar.
Student Fellows
The center designates one or two Floersheimer Student Fellows each year. The fellows, who receive a modest stipend, perform legal research, help execute events, and provide other support for the center's projects.
 
The center also provides financial support for student activities that are consistent with the center's overall mission. For example, in recent election years, the center has supported students engaged in non-partisan poll-watching through organizations such as Election Protection and Just Democracy. The center also provided a stipend to a recent Cardozo graduate clerking in the office of the prosecutor at the United Nations' International Criminal Tribunal for the former Yugoslavia and funds several public-interest stipends each summer. The Center also provides sponsorship for several student-run events each academic year. Cardozo students seeking financial support for an organization or for an individual internship or other project should contact the program's co-directors.