The Floersheimer Center for Constitutional Democracy is a vibrant center for scholarship and events, advancing the functioning of constitutional democracies in the United States and abroad.
Spring 2021 Events
All events during the Spring 2021 semester will be held virtually. 
With eight candidates vying to become the next Democratic candidate for Manhattan District Attorney, the Benjamin N. Cardozo School of Law chapter of the National Lawyers Guild, in partnership with the Floersheimer Center for Constitutional Democracy, is proud to host a public forum for the candidates to exchange their views on a wide variety of critical issues. Join the Democratic DA candidates on Thursday, January 21, 2021 at 7:00pm EST for a spirited virtual discussion on revised bail reform practices, decline-to-prosecute policies, responses to gun violence, and support for incarcerated New Yorkers.
This event will feature all of the Manhattan DA candidates:
Tahanie Aboushi
Alvin Bragg
Liz Crotty
Tali Farhadian Weinstein
Diana Florence
Lucy Lang
Eliza Orlins
Dan Quart
Link to register for the event found HERE.
The Manhattan District Attorney is one of the most powerful elected officials in New York. This June, Manhattan voters will have their first chance to choose a new District Attorney since the election of Cyrus Vance more than 10 years ago. With their vote, Manhattanites have the power to elect a new District Attorney who can hold police accountable, protect immigrants and survivors of domestic and sexual violence, radically change prosecutorial practices and discretionary policies that incarcerate Black and Brown New Yorkers at disproportionate rates, and commit to shorter sentencing, faster discovery and post-conviction reforms. The question becomes which candidate is most fit to answer these calls?
The eight candidates in this year's race include former prosecutors, public defenders, civil rights attorneys and state legislators. While each is campaigning on a broadly more accountable and progressive platform than the outgoing Manhattan District Attorney, their plans and promises vary. 
"After this summer's nationwide uprising and reckoning following the police murders of Black people, our communities' voices are louder than ever in demanding true change and accountability from those who police our communities and bodies in the name of the public service," said Cardozo School of Law Professor and forum moderator Ekow Yankah, who also sits on the board of the Innocence Project. "As one of the most powerful democratically elected police figures in New York's criminal justice system, we hope our next Manhattan District Attorney will bring about such change." 
If you'd like to submit a question for the candidate panel, please do so HERE. For further information, please direct all inquiries to Cardozo NLG at Cardozo.NLG@gmail.com. Link to register for the event HERE.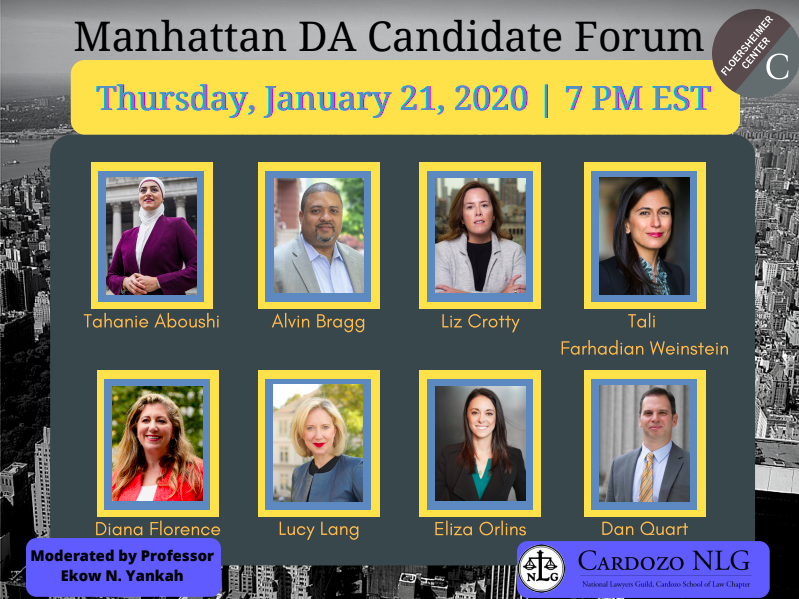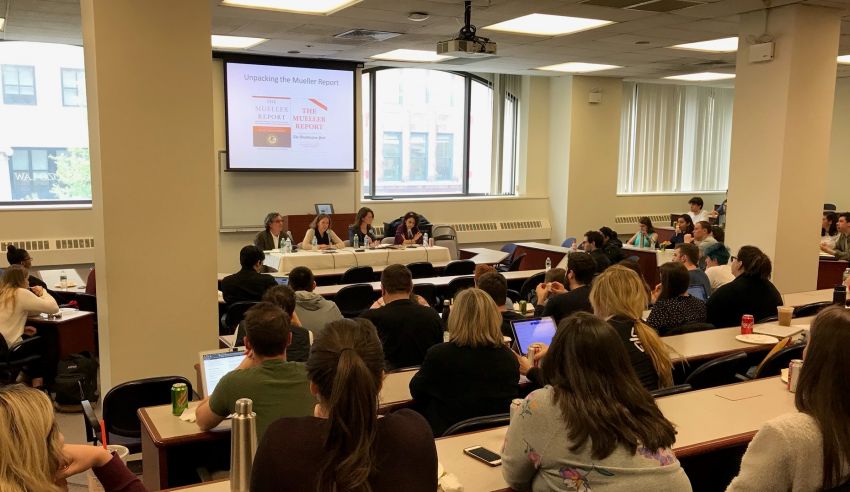 Fall 2020 Events
All events during the Fall 2020 semester will be held virtually.
Election 2020 Post-Game: The Law, The Process & What Comes Next?
Tuesday, November 17, 2020 4:30 - 6 p.m.
Join the Floersheimer Center for Constitutional Democracy and Cardozo Law Professors Michael Herz, Deborah Pearlstein, and Kate Shaw for a discussion of law and process issues surrounding the 2020 election, as the focus moves from the ballot box to the courts and the transition ahead.
Please register here and you will receive the Zoom Webinar information prior to the event.  A recording of the event will be made available after the event.
Please direct all questions about this event to the Floersheimer Center Student Fellows, Emily Margolin and David Stillman.
---
The Center is co-sponsoring the Cardozo Law Review's re-scheduled Spring 2020 symposium on affirmative constitutional rights, Fault Lines in the Constitution.
The Symposium has been reconstituted as three virtual panels:
Sept. 25th, 12:00 p.m., Environmental Affirmative Rights in the 21st Century
Sept. 29th, 11:00 a.m., Sources of Affirmative Rights
Oct. 12th, 12:00 p.m., Understanding and Interpreting Affirmative Rights: The U.S. Constitution and Beyond
Register for all three panels here. CLE is available, see the Eventbrite for more information.
-----
On Oct. 5th, the Center will host our Annual Supreme Court Term Preview with Cardozo Professors Felix Wu, Alex Reinert, and Rebecca Ingber.
Visitors and Fellows
The center invites a small number of Distinguished Fellows to be in residence for two to four weeks during the academic year. Fellows are provided an office, secretarial assistance, travel and living expenses, and an honorarium. While at Cardozo, they contribute in such ways as teaching a mini-course, giving a faculty workshop or public lecture, guest teaching another professor's course, or providing an article to a Cardozo journal. In addition, the center occasionally sponsors a semester-long visit by a prominent constitutional scholar.
Student Fellows
The center designates one or two Floersheimer Student Fellows each year. The fellows, who receive a modest stipend, perform legal research, help execute events, and provide other support for the center's projects.
 
The center also provides financial support for student activities that are consistent with the center's overall mission. For example, in recent election years, the center has supported students engaged in non-partisan poll-watching through organizations such as Election Protection and Just Democracy. The center also provided a stipend to a recent Cardozo graduate clerking in the office of the prosecutor at the United Nations' International Criminal Tribunal for the former Yugoslavia and funds several public-interest stipends each summer. The Center also provides sponsorship for several student-run events each academic year. Cardozo students seeking financial support for an organization or for an individual internship or other project should contact the program's co-directors.
Established in 2000 through a gift from Dr. Stephen Floersheimer, the center supports research by scholars and policymakers, hosts speakers and conferences, issues publications, and provides financial support for visiting scholars as well as student projects. Topics of particular concern include civil liberties in an age of terrorism, the structures of democratic government, and the relationship between church and state.
The center's Co-Directors for the Fall 2020 semester are Professor Michelle Adams and Professor Deborah Pearlstein.
Cardozo's constitutional law faculty members, including Michelle Adams, Michael Herz and Kate Shaw, provide commentary on landmark U.S. Supreme Court cases in the Cardozo Benchmarks video series.