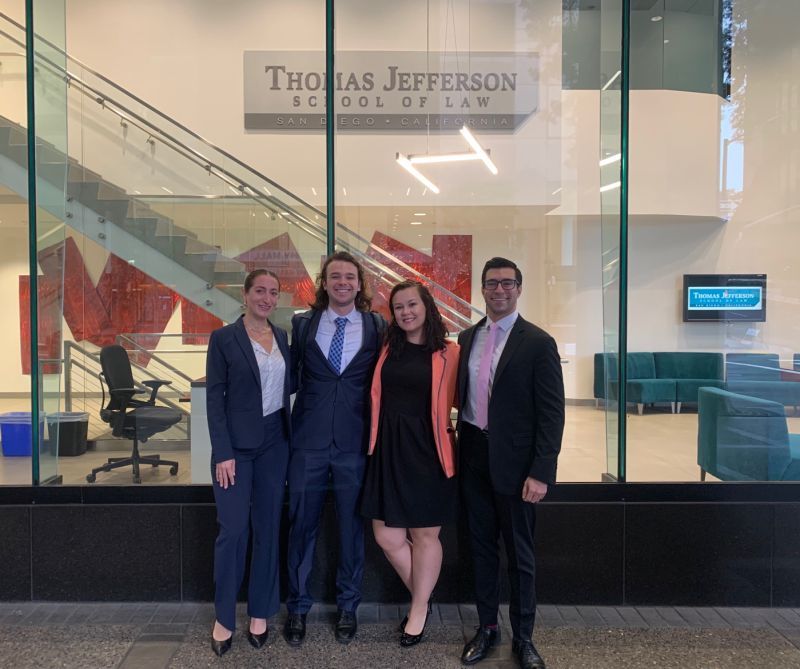 The ADR Competition Honor Society was busy in October, racking up wins at competitions around the nation.
Anna Chen, Antranik Chekemian, 3L Senior Editors, and Mieola Easter, a 2L Staff Editor, competed virtually at the St. John's University School of Law Carey Center/FINRA Securities Dispute Resolution Triathlon on October 17-18. They won first place in Arbitration Advocacy. The team was coached by Daniel Jones and Shawn White, Senior Editors of the ADRCHS team, and advised by Professor David Weisenfeld.
2L Staff Editors Ilona Ehrlich, Lisa Gluzman and Jordan Stark won multiple prizes at Brenau University's 19th Annual INADR Invitational Mediation Tournament, held in person October 8-9 in Gainesville, Georgia. Stark won first place in Top Overall Mediator category; Stark and Gluzman won third place in Top Advocate-Client Pair; and Stark and Ehrlich won 10th place in Top Advocate-Client Pair.
The entire team won third place for Top Overall Advocate-Client Team and fifth place for Top Overall Mediation Team. The team was coached by 3L and Managing Editor Kristin Moriarty and 3L and Senior Editor Trenton Hanifin. Professors Lela Love and Donna Erez-Navot, as well as former ADRCHS Editors-in-Chief Krysta Hartley and Sean McLaughlin, gave extensive feedback during moots.
2L Staff Editors Jaimie Mayer and Jason Siev (Team 1), 2L Staff Editors Hannah Petitti and Alec Neimand (Team 2), with their respective 3L Senior Editor coaches Kelsey Keane and Massy Vainshtein, traveled to San Diego to compete in the Thomas Jefferson School of Law National Sports Law Negotiation Competition on October 22-24.
"We are so proud of them for their many weeks of preparation and especially excited for Team 1, which advanced to the finals and finished in third place overall out of the 36 teams in attendance," said Gloria J. Medina, a 3L student and Editor-in-Chief of the ADR Competition Honor Society.