The Cardozo Alternative Dispute Resolution Competition Honor Society ("ADRCHS") is a student-run organization that is led primarily by a select group of 3L students that excelled as 2L competitors.  ADRCHS is the competitive wing of Cardozo's Kukin Program for Conflict Resolution, ranked #1 in New York City and #4 in the nation by U.S. News & World Report.
The Honor Society selects approximately sixteen to eighteen competitors each year. Together, these students participate in an ADR Moot Camp over the summer and continue on to prepare for domestic and international competitions during the Fall and Spring semesters. These competitions simulate negotiation, client counseling, representation in mediation, mediation and arbitration. These events are sponsored by the ABA, other law schools and various international entities such as the International Chamber of Commerce (ICC) in Paris, France. Coaching is supplemented by Cardozo Law faculty members who assist in preparing individual teams for competitions. 
2023 Cardozo Invitational Negotiation on Entertainment, Media and Art (CINEMA) Competition
About the CINEMA Competition 
The Cardozo Invitational Negotiation on Entertainment, Media and Art Competition simulates intellectual property negotiations in which law students, acting as lawyers, manage a series of legal problems relating to real-life scenarios. The simulations consist of a common set of facts known by all participants and confidential information known only to the participants representing a particular side. All of the simulations deal with the same general topic, but the negotiation situation varies with each round and level of the competition. Teams of two competitors will represent each party. Competitors are scored exclusively on their oral argument performance. 
2023 CINEMA Competition
The competition's preliminary rounds and final rounds will be held on Sunday, March 26, 2023. This will be an in-person event held at Cardozo School of Law, located at 55 5th Ave, New York, NY. To comply with Cardozo's COVID-19 protocols, all participants (competitors, coaches, judges, etc.) must be fully vaccinated and boosted to participate in the competition, will need to show proof of vaccination and booster prior to entry, and have to be masked during the competition.
We strongly encourage all teams to read the entire CINEMA 2023 Rules Guide.
 
Please click here to view the 2023 CINEMA Rules Guide
Please click here to register
Please click here to submit payment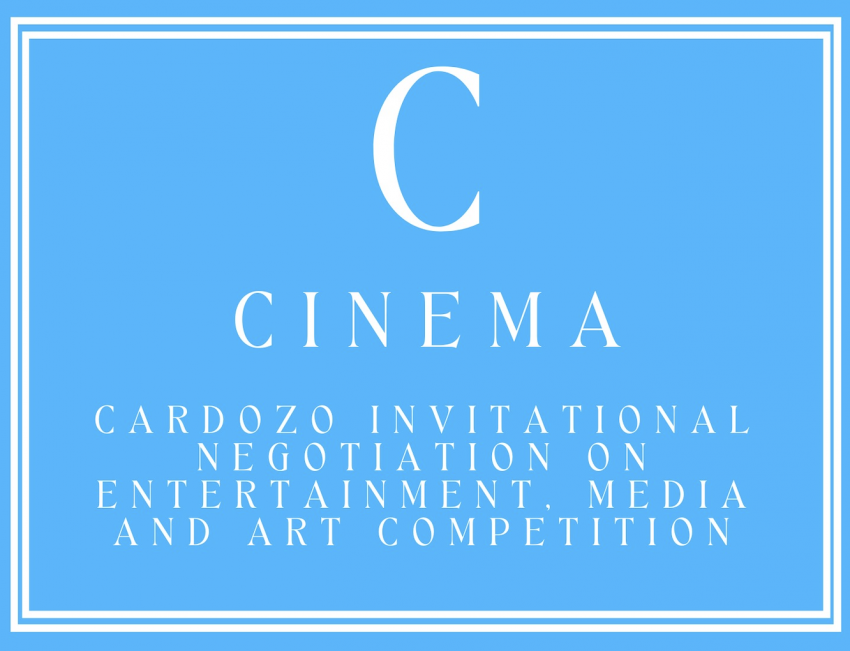 2022-2023 Leadership Team & Members
Editor-in-Chief 
Ilona Ehrlich 
Managing Editor 
Alec Neimand 
Executive Editors 
Mieola Easter 
Jason Siev 
Problem Editors 
Charles Iwouha 
Hannah Petitti 
Senior Editors 
Victoria Budhan 
Maurice Elbaz 
Lisa Gluzman 
Jaimie Mayer 
Noah Page 
Se Won Park 
Steven Schwartz 
Sydney Schwartz 
Carly A. Shapiro 
Jordan Stark 
Associate Editor 
Janice Kwon 
Staff Editors 
Noah Agnew 
Megan Bishop 
Judzia Bryant 
Chloe Canaan 
Sydney Clarke 
Sabrina Clifford 
Olivia Fortunato 
Bradley Goodstein 
Sarah Igarashi 
Diana Miller 
Lisa Mordkovich 
Julia Pettis 
Yonatan Raskin 
Jacob Segal 
Joshua Weiner 
Muna Yimam 
Awards
Spring 2021: 
In February 2021, Cardozo took the top spot ("Best Overall") out of 46 schools in a competition at UCLA! We also got the award for "best negotiation."  

1st place at the Fordham Basketball Negotiation competition. 
Fall 2021: 
1st place at ABA Regional Negotiation Competition;  

1st place in Arbitration Advocacy at the FINRA Securities Dispute Resolution Triathlon;  

1st place mediator, 3rd place overall advocate-client team, 3rd place advocate-client pair, 5th place overall mediation team, and 10th place advocate-client pair at the INADR Invitational Mediation Tournament;  

3rd place at the Thomas Jefferson School of Law Sports Law Negotiation Competition;  
Spring 2022: 
Semi-Finalists at the X-Rio Willem C. Vis International Commercial Arbitration Pre-Moot;  

16th place of 47 teams at ICC International Commercial Mediation Competition; 

Top 8 teams (out of over 50 teams) at the Sports Arbitration Moot; 
2nd Place and other team advanced to quarter finals at the Fordham Basketball Negotiation Competition. 

2nd place in preliminary and 4th overall at the South South Texas Energy Law Negotiation Competition 
Fall 2022: 
2nd Place at the Thomas Jefferson School of Law Sports Law Negotiation Competition 
Tryouts
The Cardozo ADR Competition Honor Society Tryouts take place in the spring semester during April. This highly competitive mock negotiation will help us determine who will be invited to join the society for the following competition year. The negotiation will be followed by an interview with a group of Executive Board members. 
The tryout process consists of one mock negotiation round that will be judged by current ADRCHS members. Participants will be sent a general fact pattern and a confidential fact pattern. In March, ADRCHS will host tryout information sessions for interested students to learn how to succeed in a negotiation. 
During the May Unified Writing Competition, we will also ask interested students to submit a resume, statement of interest and headshot.
ADR Methods
Alternate Dispute Resolution refers to any methods of resolving disputes without litigation. There are several ADR methods, but the process choices that ADRCHS mostly focuses on are negotiation, mediation, and arbitration. All ADR methods share characteristics, but each is unique in their own way and have their own advantages. Each competition ADRCHS competes in focuses on a specific method or focuses on multiple several methods. 
Mediation 
Mediation sessions are facilitated by a third party-neutral to assist the parties to work towards a mutually beneficial agreement. Mediators bring parties together to work out a settlement that is amenable to all present. Mediation is confidential and not binding. 
Negotiation 
Negotiation allows parties to meet in a confidential space to settle their dispute. The main advantage of this ADR method is that the parties themselves control the process and solution themselves, allowing for a lot of flexibility.  
Arbitration 
Arbitration is similar to traditional court proceedings, involving limited discovery and simplified rules of evidence. Arbitration relies on the consent of parties, who enter a binding agreement that allows them to lay out the terms of the arbitration process. The arbitration is headed by an arbitral panel or individual arbitrator, who then deliberates and issues a binding written award.