Cardozo Law's Field Clinic Program offers students unique opportunities to participate in the practice of law under the direct supervision of experienced mentor-attorneys. Students work with individual clients, assist with impact litigation, contribute to policy initiatives, engage in community legal education and support legislative advocacy. Cardozo Law's Field Clinics partner students with select dynamic nonprofit and government law offices throughout the New York City metropolitan region.
The New York region is home to a vast array of legal enterprises, and Cardozo's field clinics offer students a working connection to major legal institutions. Field clinics help students who are eager for real-world experience gain an edge in a legal landscape in which employers expect graduates to be practice-ready. Field clinics give students opportunities to work in small teams in leading NY law offices, government offices and public service organizations. Student groups function as a team, attending seminars taught by experts in their field.
Host organizations are selected for cutting-edge excellence in their area of practice and for a devotion to teaching. Students are matched by interest and experience with dynamic nonprofit and government law offices, where they work part-time for a semester or year. Students develop powerful advocacy and critical-thinking skills by assisting with impact litigation, prosecuting and defending their own cases, drafting and commenting on legislation, helping formulate policy initiatives and engaging in rigorous research, writing and legal analysis.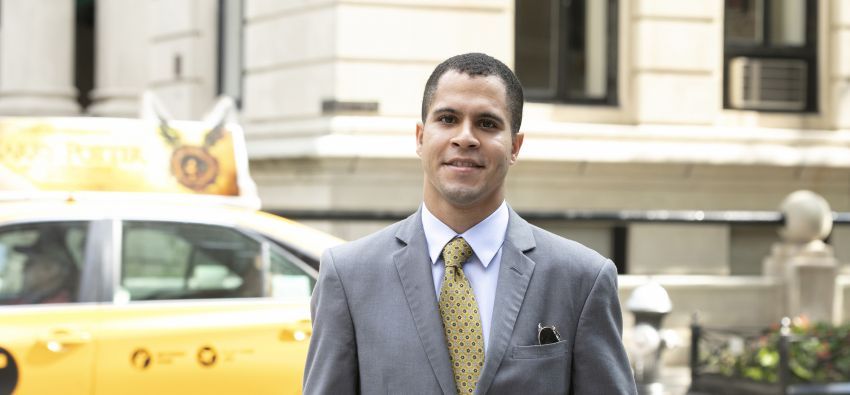 Field Clinic Program
Field Clinics are semester or year-long intensive courses in which expert practitioners work with a cohort of students in the field and teach a focused classroom seminar. Field Clinic participants are part of a cohesive team of fellow Cardozo students. This is a competitive program where host organizations seek good matches for their offices by interviewing student candidates.
APPROPRIATE DISPUTE RESOLUTION (ADR) FIELD CLINIC
During the course of the semester, students work at an organization that specializes in offering conflict resolution services in the public or private sector. They learn about unique forms of mediation by conducting research, working with clients, observing live sessions, administering services and gaining valuable exposure to the field. Learn more here.
BRONX DEFENDERS/MAINZER FAMILY DEFENSE FIELD CLINIC 
In this field clinic, students examine child welfare law and policy, and gain litigation experience representing low-income families in high-stakes child neglect proceedings. The Bronx Defenders unique model of holistic representation offers an ideal setting for students to be exposed to this emerging public defense field.
CONSUMER RIGHTS FIELD CLINIC
Assisting in protecting the rights of low-income consumers against improper practices by the burgeoning third-party debt collection industry, students extern at selected legal services offices with advocates who are at the forefront of city and state-wide consumer protection representation and reform.
CRIMINAL APPEALS FIELD CLINIC 
Students work together to represent indigent individuals on their criminal appeals under the supervision of practitioners from the nonprofit public defense law firm Appellate Advocates.  
DEPARTMENT OF FINANCIAL SERVICES (DFS) 

FIELD CLINIC

 
The mission of the New York State Department of Financial Services is to reform the regulation of financial services in New York to keep pace with the rapid and dynamic evolution of these industries. Students immerse themselves in the regulatory arena, providing counsel to division supervisors concerning the department's authority and strategizing on regulation of financial products and services. 
FEDERAL CRIMINAL PROSECUTION FIELD CLINIC- SOUTHERN DISTRICT OF NEW YORK
Students are placed in the Criminal Division of the United States Attorney's Office for the Southern District of New York, one of the busiest and most respected prosecutorial offices in the federal system. Students work closely with Assistant United States Attorneys on a wide range of criminal matters, including the prosecution of terrorism, organized crime and public corruption.
HEALTH CARE REFORM FIELD CLINIC
Students are placed with high-profile health law offices helping low-income New Yorkers navigate health insurance claims and appeals. Through practice and study, they critically examine the fragmented patchwork of insurance programs available for these consumers. 
HOUSING JUSTICE FIELD CLINIC
Students work with supervising attorneys in Legal Aid's Bronx Neighborhood Office and Bronx Housing Court to assist in representing low-income tenants in non-payment and holdover eviction proceedings.  Appearing in court under Legal Aid's student practice order, and given opportunities to assist with client interviewing, drafting pleadings, motions, and settlement agreements, students hone litigation skills and learn about the challenges experienced by low-income New Yorkers living in market rate, regulated, and subsidized rental housing.
NEW YORK CITY LAW DEPARTMENT APPEALS DIVISION FIELD CLINIC
The NYC Law Department Appeals Division handles appeals from virtually all of the Law Department's litigating divisions and from all city agencies. Students are assigned real appellate cases to research and draft from start to finish on a variety of civil matters, including appeals from Article 78 proceedings, motions for summary judgment, abuse and neglect petitions and juvenile delinquency orders.
NEW YORK CITY LAW DEPARTMENT LABOR AND EMPLOYMENT LAW FIELD CLINIC
The New York City Law Department Labor and Employment Law Division handles a wide variety of matters, including claims of First Amendment retaliation; gender, race, age and disability discrimination; and violations of the Equal Pay Act. Students work on and study all aspects of civil litigation, including researching and drafting legal memoranda, preparing for and observing witness depositions and participating in court proceedings.
NEW YORK STATE OFFICE OF THE ATTORNEY GENERAL FIELD CLINIC (SOCIAL JUSTICE DIVISION)
In the New York State Office of the Attorney General, one of the largest and most powerful state legal offices in the country, students work in the Civil Rights, Labor, Environmental Protection and other bureaus of the Social Justice Division to protect New Yorkers' legal rights and study the office's investigative, affirmative and defensive litigation fronts.
THE PERLMUTTER FORENSIC SCIENCE FREEDOM FIELD CLINIC
This field clinic introduces students to the most prevalent forensic sciences used during the investigation and prosecution of crimes. Students gain hands-on experience with the challenges of integrating scientific evidence into legal decision-making, and an understanding of how courts employ this form of proof. Students also learn the creative analytical thought necessary to attack or admit into evidence various forms of forensic science and play a role in exonerating the wrongfully convicted. Learn more about The Perlmutter Center for Legal Justice at Cardozo.
SPECIAL EDUCATION LAW AND ADVOCACY FIELD CLINIC
Students work at Advocates for Children of New York, and collaborating organizations, representing and assisting with cases on behalf of low-income families seeking appropriate educational services. At the same time, they study the history and practice of special education law and gain understanding of the process of representing families of students with disabilities.
STATE CRIMINAL PROSECUTION FIELD CLINIC- QUEENS COUNTY DISTRICT ATTORNEY
The State Criminal Prosecution Field Clinic introduces students to state prosecution practice through an immersive experience that allows law students to act as Student Assistant District Attorneys, pursuant to a Student Practice Order from the Appellate Division, Second Department.  Students have the opportunity to work closely with experienced prosecutors, participating in investigations, case preparation, witness interviews, as well as written and oral advocacy both inside and outside the courtroom. 
TAX LAW FIELD CLINIC
Students work in low-income taxpayer centers and with selected private practitioners, representing and assisting with cases on behalf of low-income clients. They learn how to analyze complex documentation, articulate tax concepts to low-income clients and advocate for these clients. They study such topics as tax return basics, collections, IRS examinations and Tax Court representation. 
VISUAL AND PERFORMING ARTS LAW FIELD CLINIC
Students employ their legal skills to facilitate and protect the arts, and to protect the rights of art collectors and artists. Art law practice raises unique legal questions that arise in handling art objects and in managing cultural institutions, as well as issues surrounding responsible stewardship and ownership. Students extern with various arts-related organizations, such as Lincoln Center, Christie's and Volunteer Lawyers for the Arts.