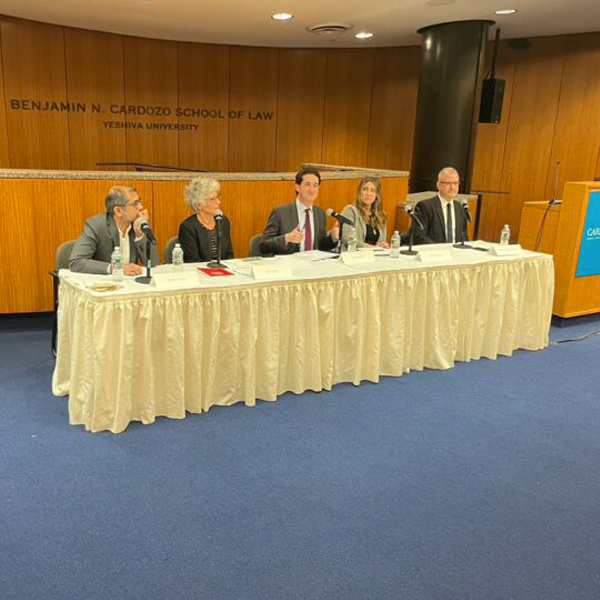 Under the leadership of co-presidents Olivia Huey '24 and Se Won Park '23, the Cardozo Dispute Resolution Society ("CDRS") hosted several events for Cardozo students to learn from dispute resolution practitioners throughout the 2022-2023 academic year.  
During the fall semester, Cardozo LL.M. Alejandro Martinez '23, organized an event entitled, "Pursuing a Career in International Arbitration in New York." The program featured international arbitration practitioners Gonzalo Rodriguez-Matos, Isabel Fernandez de la Cuesta, and Gustavo Favero Vaughn.  The panel discussed their respective career trajectories and shared information about the day-to-day life of a practitioner in the field of international arbitration.  
CDRS leaders also worked with Professor Brian Farkas to host a CLE event entitled, "A New Day: Ending "Forced" Arbitration of Sexual Assault and Harassment." Panelists Hon. Steven I. Locke, Nina R. Frank, Jyotin Haid, and KC Wagner discussed the implications of the Ending Forced Arbitration of Sexual Assault and Sexual Harassment Act.  
During the spring semester, LL.M. students Caterina Cesario '23 and Xenia Campas Gene '23 organized "The Song of Disputes: The Melody of Intellectual Property and Alternative Dispute Resolution." Speakers included Giulio Zanolla '10, Professor Michelle Greenberg-Kobrin, and Usher Winslett and was moderated by Professor Brian Farkas.  The event organized for Cardozo students, and walked students through a mock music industry, and discussed the intersectionality of intellectual property and dispute resolution.  
Throughout the school year, the Society also co-sponsored two "All Things ADR" events designed to inform Cardozo students about earning a certificate in dispute resolution, ADR clinical and externship opportunities, and networking and social events related to conflict resolution at the law school.  
The 2022-2023 executive board includes Sarah Igarashi '24 (Vice-President), William Fox '24 (Treasurer), Cassidy Moon '24 (Secretary), Caterina Cesario '23 and Xènia Campàs Gené '23 (LL.M. Representatives) and, Ronnie Cattier '25 and Kate Goldberg '25 (1L Representatives). 
Follow CDRS on LinkedIn and Instagram at @Cardozodisputeresolution for updates about events and programs.