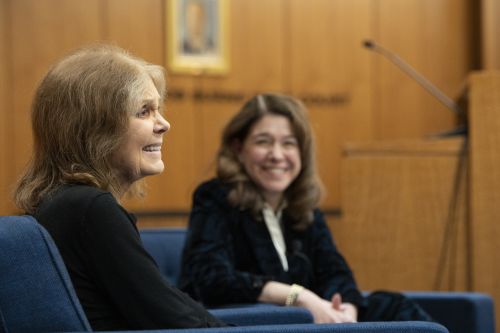 In the early evening on March 29, 2023, nearly two hundred Cardozo students and community members gathered as Gloria Steinem was presented the 22nd International Advocate for Peace (IAP) Award.  The award was presented to Ms. Steinem by Cardozo Journal of Conflict Resolution Editor-in-Chief John Dellamore '23 and Symposium Editor Nicholas Beudert '23.  
 Cardozo students participated in an interactive "fireside chat" with Ms. Steinem which was led by Kukin Program Director Professor Andrea Kupfer Schneider.  Ms. Steinem answered questions about her work as a political activist and journalist, her campaign for the Equal Rights Amendment, and her 2015 march, with a group of 30 women peace activists, across the heavily secured demilitarized zone that separates North and South Korea. 
 The IAP is awarded each year by the Journal to an individual, organization or group that is exemplary in the field of conflict resolution. The Journal students selected Ms. Steinem for her work as an international champion for gender equality and justice as a means to reduce conflict and promote a peaceful civil society. Ms. Steinem helped found the international foundations Equality Now, Donor Direct Action, and Direct Impact Africa, which work to reduce societal conflict by addressing the intersectionality of gender equality and economic stability. Ms. Steinem has also worked alongside Cardozo Law students and Professor Jocelyn Getgen Kestenbaum, with the Lenape Center, where they work to address the Missing and Murdered Indigenous Persons crisis.
When asked about how she finds joy in a troubled world, she said that she does "here with you in this room where there is such energy and hope for change." 
Watch the full event recording here