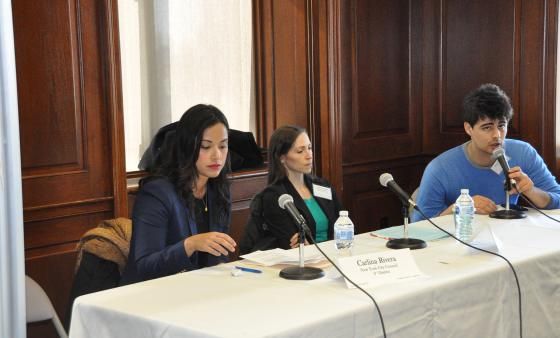 Cardozo's annual Public Law Advocacy Week took place at Cardozo Law from January 28 through 31. Judy Dahl, a 2L at Cardozo, organized this year's programming on behalf of the Center for Public Service Law, which covered topics such as efforts to ban LGBTQ conversion therapy, education, reproductive rights and changes in the landscape around immigration. Speakers included elected officials, housing advocates and a range of other public service representatives. Events throughout the week saw great turnouts from students.
Kelsey Repka, 1L student, said "All of the events I attended during P*Law Week were amazing! The students who put the panels together did such an incredible job of having representatives from organizations who are addressing some of the most pressing issues in public interest law. It was really inspiring to see how attorneys were working together and with other community organizations, such as the New Sanctuary Coalition or the #bornperfect campaign, to make meaningful changes within the law, and beyond, for the people that they work with." 
New York City leaders and activists composed many of P*LAW's events. Carlina Rivera, Councilwoman of the New York City Council, 2nd District participated on a New York City housing panel, along with Cea Weaver, Policy & Research Director of New York Communities for Change. Dr. Louis J. Braun, a former civil rights activist, local coordinator of Dr. Martin Luther King's Selma to Montgomery March, and National Chairman of Americans for Democratic Action, Campus Division spoke on a panel comparing voting rights during the Civil Rights movement and today. Hon. Adetokunbo Fasanya of New York County Family Court and Hon. Evelyn Laport of New York State Supreme Court, Kings County addressed juvenile justice. The Executive Directors of SurvJustice and Law for Black Lives, Katherine McGerald and Marbre Stahly-Butts, respectively, also participated in P*LAW programming.
The Kathryn O. Greenberg Immigration Justice Clinic and Cardozo OUTlaw sponsored a screening of AT&T Original Series Refuge, Episode 6 "Hombres Nuevos," followed by an interview moderated by Kate Shaw with special guest Luis Mancheno, who was the subject of the episode. Mancheno survived anti-gay conversion therapy and a murder attempt in his native Ecuador before receiving asylum in the United States. He is a former Cardozo Law teaching fellow and an award-winning attorney fervently advocating for immigrants' rights.