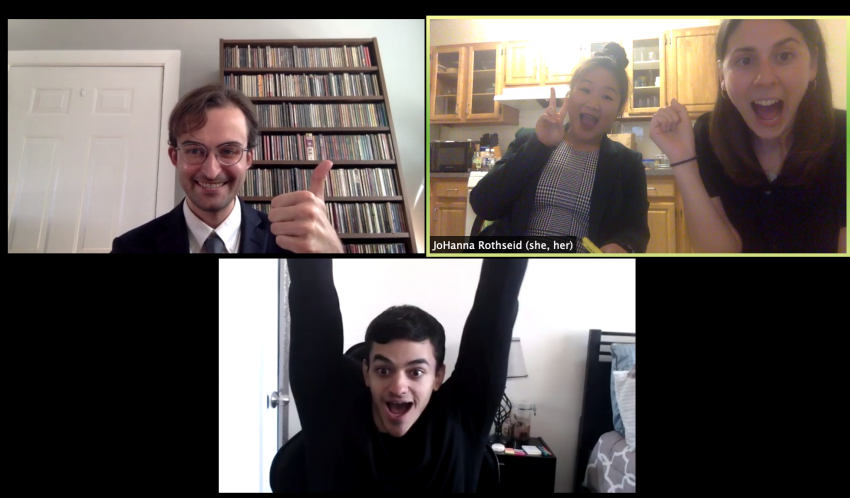 Cardozo's Moot Court Honor Society Competition Team emerged as semifinalists at the 14th Annual Emory University School of Law Civil Rights and Liberties Moot Court Competition which took place October 16-18. Professor Burt Lipshie is the team's faculty advisor.
Cardozo's team was in the top 4 out of 32 teams and Alexander Hunter, Grace Zhou, and JoHanna Rothseid won Best Brief. Grace Zhou was awarded Top 10 Oralist.
The team's focus was on two separate issues: first, whether district judges may consider arguments raised in objections to magistrates' R&R's under the Federal Magistrate Act; and second, whether websites are places of public accommodation under the Americans with Disabilities Act.
Members of the Moot Court Team are Oralists, 3L students Alexander Hunter and Grace Zhou; Head Coach, 3L student JoHanna Rothseid; Assistant Coach, 3L student Vincent Kappel and Opposing Brief Writers, 2L students Julie Tervala and Ashley Arinus.  
"Our team invested equally in writing an excellent brief and in ensuring that our oral argument felt like a conversation with the judges," said Head Coach JoHanna Rothseid. "This turned out to be a successful strategy, as we won Best Brief of the competition and our arguments propelled us to the Octofinal, Quarterfinal, and Semifinal rounds! Alex and Grace demonstrated expert legal analysis and policy implications, Vinny and I provided morale and feedback before and after every round, and Julie and Ashley prepared us for each competition practice. We are proud to return to Cardozo as semifinalists!"