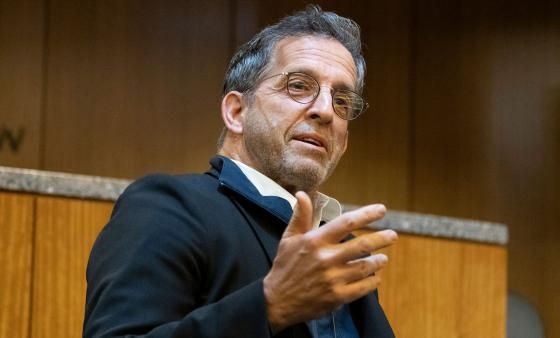 Design legend Kenneth Cole visited Cardozo on April 17 as part of the FAME Center and the Fashion Law Society's "Being an Accessory to Change" event. Dentons sponsored a reception immediately following the event.
Cole was interviewed by his daughter Emily Cole, attorney and Columbia Law graduate. He spoke about the beginning of his career in fashion, his work in the community and running a creative brand in the modern age.
"Law is a set of rules…with fashion there is no book," said Cole, who initially wanted to become a lawyer, but fell in love with fashion when he started working at his dad's company.
Cole saw fashion as both an outlet for creativity and a way to help others. He said he still believes business and philanthropy are interdependent. Cole's vision is turning the brand into a platform for social change.
Professor Barbara Kolsun, Director of the FAME Center, spoke of Cole's public service programs and the millions of dollars he raised for AIDS through his work with amfAR, the Foundation for AIDS Research.
Cole is also passionate about ending homelessness. The company famous for designing shoes launched a campaign asking customers to donate their own old or unused pairs. Over the course of 10 to 15 years, they collected millions of pairs of shoes for those in need.
Cole said the initiative was a reminder that "people would love to be in your shoes."
He also urged students to embrace their creativity.
"You're a blank canvas…you can be whoever you want to be on a given day," Cole said. "Just because you're going in a different direction doesn't mean it's the wrong direction."