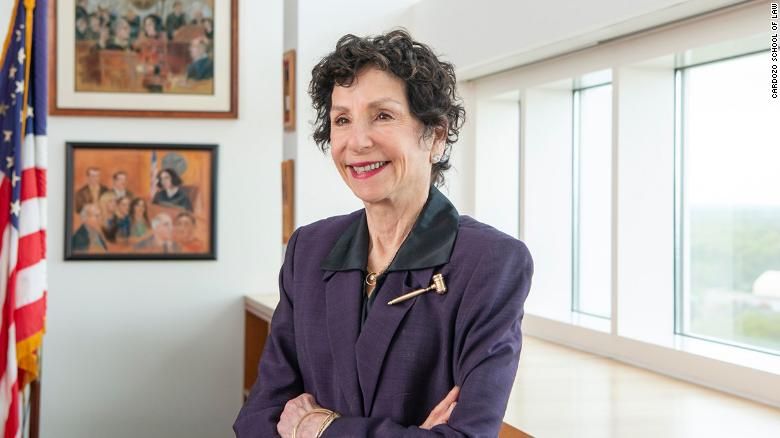 Beloved Cardozo alumna U.S. District Court Judge Sandra Feuerstein, 75, who presided over federal cases in Central Islip for nearly 20 years, died after being struck in a hit-and-run car accident in Boca Raton, Florida on April 9.
"We are devastated by this tragic news and extend our deepest sympathy to Judge Feuerstein's family," said Dean Melanie Leslie. "She was a pioneer who was dedicated to serving the cause of justice throughout her life and was an inspiration to all. She will be deeply missed by the Cardozo community."
Judge Feuerstein was elected to the Nassau County District Court and served from 1987 to 1993. She was elected a state Supreme Court justice in 1993, and appointed to the Appellate Division in the Second Department in 1999, the first woman from the 10th Judicial District. Former President George W. Bush appointed Feuerstein to the federal bench in 2003. She oversaw many high-profile criminal cases and lawsuits in her time on the bench, including terrorism trials of those convicted of joining Al-Qaeda, trials involving sex trafficking ring leaders, and a lawsuit over federally protected wildlife involving Piping Plovers on Fire Island.
Born in New York City, Feuerstein received her undergraduate degree from the University of Vermont. Prior to law school she was a teacher in New York City schools in the 1970s. She remained close to Cardozo throughout her career and she hired several Cardozo graduates as law clerks. 
Judge Feuerstein told Cardozo Life Magazine that as a member of Cardozo's first graduating class she was always aware that she was entering a profession dominated by men. But she never felt deterred by it.
"I came from a background where women were expected to do their best," Feuerstein said. "There was no question." She became a member of the Cardozo Board of Overseers in 2001 and was named an Honorary Member in 2009. In March 2021, during Women's History Month, she participated in Cardozo's Alumnae on the Bench event, part of the Women Lead the Law series.     
One of her early accomplishments and a personal point of pride was starting a volunteer landlord-tenant project that trained volunteer lawyers to represent tenants who were not receiving adequate representation in the District Court in Nassau County. That experience sparked Feuerstein's appreciation for pub­lic service. 
A dedication to the law runs in Feuerstein's family. Her mother, Annette Elstein, was an immigration judge who graduated law school in 1940 and became a judge in 1986. They are believed to be the first mother-daughter judges in the nation's history. Feuerstein noted the difference in time that it took her mother to become a judge after gradua­tion compared with her own timeline. "I was on the cusp of that time when women were first being accepted," Feuerstein said. She was the former president of the Nassau County Women's Bar Association as well as vice president of the New York State Women's Bar Association. 
In a 2019 interview Judge Feuerstein offered advice to Cardozo graduates, telling them to always "keep in mind all of those whom your actions reflect, including your school. Be a great representative of everyone you represent," she said. "You never know who is taking notice of what you're doing."