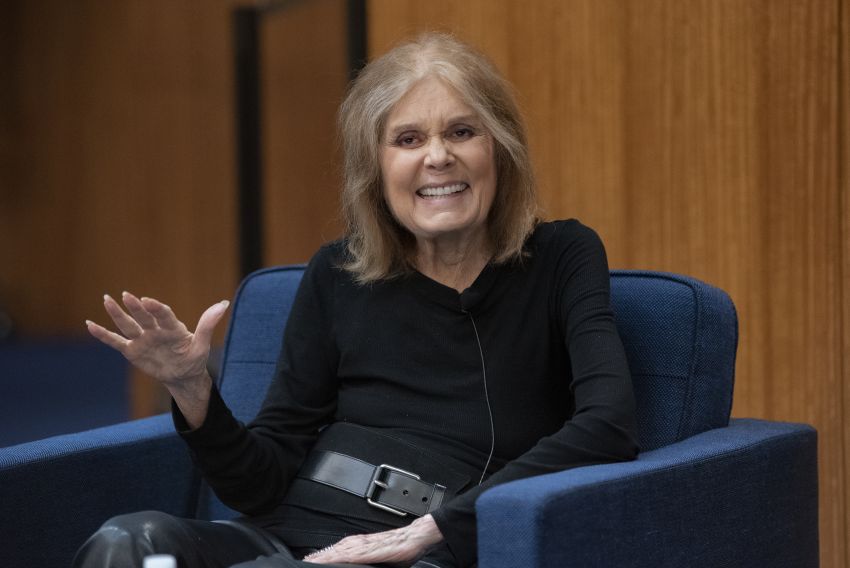 On March 29, Ms. Gloria Steinem accepted the 22nd annual International Advocate for Peace (IAP) Award from the Cardozo Journal of Conflict Resolution. 
"Selecting the recipient of the IAP Award is a wonderful and refreshing process to be a part of. Instead of wading into the despair of current conflicts, you get to celebrate achievements that have been made in resolving those conflicts, you get to look at the bodies of work of amazing individuals and marvel at the ways that they have advocated for peace," Nick Beudert, the symposium editor for the Journal said.
He went on to say that "Ms. Steinem is a journalist and author: she co-founded Ms. Magazine and has written ten books and countless hard-hitting exposés. She is also an activist: She campaigned for the Equal Rights Amendment to the U.S. Constitution, protested the South African Apartheid system, led a Women's March across the Demilitarized Zone between North and South Korea and helped found the international foundations Equality Now, Donor Direct Action, and Direct Impact Africa. She has also worked alongside Cardozo students at the Lenape Center to address the Missing and Murdered Indigenous Persons crisis."
In a 45 minute conversation with Professor Andrea Schneider, Director of the Kukin Program for Conflict Resolution, which is ranked #4 in the nation and #1 in New York City, the 89-year-old Steinem gave a powerful and sometimes humorous tour de force about how to think in ways that allow one to challenge the status quo. Reflecting on her method she said women tend to solve problems from a family perspective, seeking solutions where each party in a dispute must be heard.   
She told students to "remember that revolution is like a tree, it doesn't grow from the top, it grows from the bottom." 
Every year since 2000, the Journal, the country's preeminent legal journal of arbitration, negotiation, mediation, settlement and restorative justice, presents the IAP Award to an individual, organization or group that is exemplary in the field of conflict resolution. Past recipients of the IAP Award include President Bill Clinton, Archbishop Desmond Tutu, Leymah Gbowee and Sir Paul McCartney.  
Cardozo Dean Melanie Leslie began the night by saying how when she was growing up, Ms. Steinem inspired her to think about women's roles differently, and how she may never have achieved her level of success without that inspiration and acknowledged the work Cardozo students and alumni are doing in the field of conflict resolution. 
"In a world of conflict, we need peaceful advocates, and Cardozo has produced generations of leaders in the field," Dean Leslie said. "I could not be prouder. Thank you to our students, to our alumni and to our faculty for all your efforts and achievements in the field of conflict resolution." 
Ms. Steinem gave advice on how to be a successful mediator and provided insight into her lifelong career as a writer, feminist and activist.
When asked about how she finds joy in a troubled world, she said that she does "here with you in this room where there is such energy and hope for change."