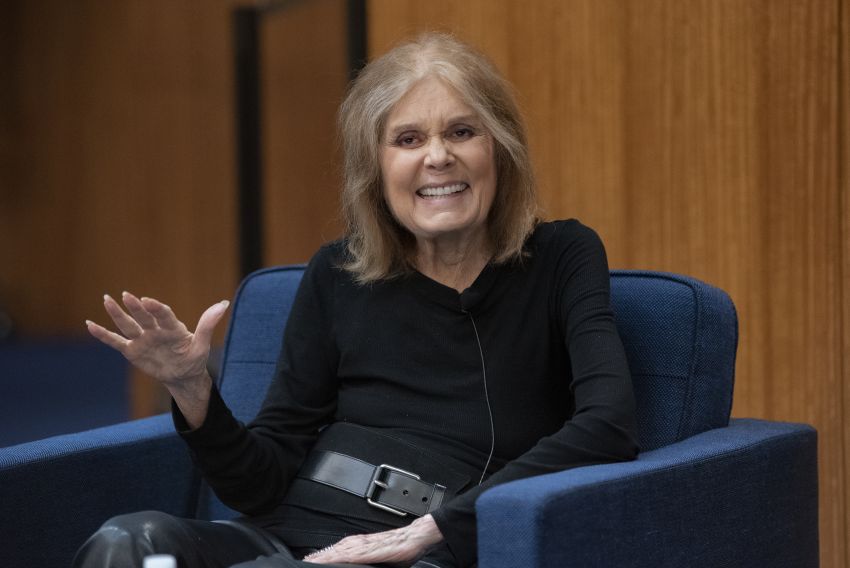 International feminist icon Gloria Steinem spoke at length to members of the Cardozo community on March 29th as she accepted the 22nd annual International Advocate for Peace (IAP) Award from the Cardozo Journal of Conflict Resolution. Steinem was recognized for a lifetime of advocacy and achievement.  
Cardozo student Nick Beudert '23 presented the award to Steinem as the symposium editor for the Journal of Conflict Resolution, which is considered a leading law school journal in the field. The Journal editors hailed Ms. Steinem as a leader of the feminist movement for over five decades, a journalist and author, and the co-founder of Ms. Magazine. They noted her role as a powerful anti-war activist, and for championing the Equal Rights Amendment, her powerful opposition to the South African Apartheid system of racial separation, her role in a Women's March across the Demilitarized Zone between North and South Korea, and closer to home her work alongside Cardozo students at the Lenape Center to address the Missing and Murdered Indigenous Persons crisis in the United States.  
The Advocate for Peace Award has been an annual event at the law school for over two decades, with recipients including political leaders, ambassadors, documentary filmmakers and music legends.  Winners are presented with the award and speak to students at the law school about their approach to peaceful advocacy. Ms. Steinem joins a distinguished list that includes: President Jimmy Carter, for negotiating the longest lasting Middle East peace treaty between Egypt and Israel; Reverend Desmond Tutu, for his contributions to ending they systemic racism of Apartheid in South Africa; Peter, Paul and Mary, for their anti-war anthems, performed on the Capitol steps during the March on Washington organized by Dr. Martin Luther King Jr.; and Sir Paul McCartney for his anthology of songs contributing to a culture of peace. 
"It is an honor to present the award to Gloria Steinem," said Beudert. He noted that while conflict resolution often involves wading into the despair of current issues, that recognizing a lifetime of achievement in the field allows students and others to stop and admire "amazing individuals like Gloria Steinem, and to marvel at the ways that they have advocated for change and advanced the cause of peace."  
Ms. Steinem spoke in a 45-minute conversation with Professor Andrea Schneider, Director of the Kukin Program for Conflict Resolution, about her role as an advocate.  The 89-year-old Steinem gave powerful examples of how to think in ways that challenge the status quo. She said that as a woman she believes she comes to the table to solve problems from a family perspective, bringing all sides together. She stressed the belief that in seeking solutions to conflict, each party in a dispute must feel heard.    
But she also spoke about the need for revolutionary change when systems are repressive. Steinem stressed the need for grassroots change, pointing out that victory often comes from changing the hearts and minds of individuals, not necessarily leaders. She urged students and community members to "always remember that revolution is like a tree, it doesn't grow from the top, it grows from the bottom."  
Professor Schneider ended the conversation with Steinem by asking how she finds joy in a troubled world. Steinem reflected for a moment and then said, "being here with you all in this room. There is such energy and hope for change. That brings me joy." 
Cardozo Dean Melanie Leslie remarked that Gloria Steinem had changed countless individual lives. Dean Leslie said that as a girl growing up, people like Steinem inspired her to think about women's roles differently from how they were commonly represented in the culture of that time. "Like countless other women, I may never have achieved the things I have without that inspiration. Thank you, Gloria Steinem." 
The dean also thanked the Journal editors, the Kukin Center for Conflict Resolution and professors Lela Love and Andrea Schneider. "Cardozo has produced generations of leaders in the field of conflict resolution. I could not be prouder of that legacy."