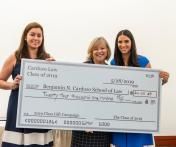 Cardozo's 3L Class Gift is an annual tradition at the Law School. Led by a student committee, these individuals dedicate their efforts to enhancing engagement and fundraising efforts among classmates, friends and family in our community.
30 percent of the 2019 class (99 students) donated to the gift, in addition to a handful of parents, alumni, and friends of this year's graduates. As a result, the 2019 Class Gift raised more than $40,000. This was a record-setting year and a tremendous display of both financial support and appreciation to the Cardozo community!
Thank you to all the members of the 2019 Class Gift committee including Shelley Attadgie, Lieselle Bumatay, Jared Grubow, Eduardo Quiroga, Adam Rubin, Dih-Lin Wong, Rachel Zilberfarb and this year's co-chairs Alexandra Nieto and Raquel Wildes Genet. Alexandra (left) and Raquel (right) presented Dean Melanie Leslie with a mock check representing fundraising efforts as of May 28, during the awards ceremony preceding Commencement.