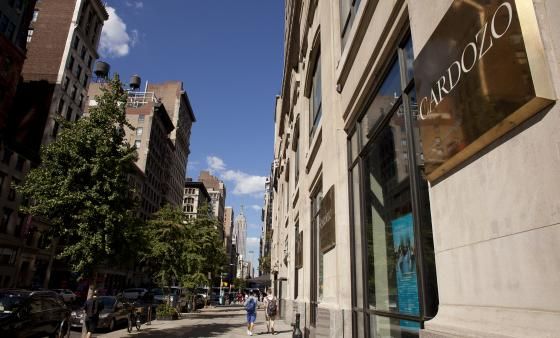 Spotlight on News from the Cardozo Community
Professor Kate Shaw Quoted by Top-Tier Outlets on SCOTUS Decision to Overturn Roe v. Wade.
Professor Michael Herz Speaks to The Hill on SCOTUS' Ruling in West Virginia v. EPA.
Professor Christopher Buccafusco, in The New York Times, Discusses 'Sampling' in Beyonce's Latest Song, 'Break My Soul'.
Dean of Career Services, Carey Bertolet Grand, Talks with preLaw Magazine About Career Opportunities Urban Law Schools Offer.
Professor Myriam Gilles Talks to Law360 About Recent Wage-Hour Rulings and Her Predictions for the Rest of 2022.
Faculty Scholarship & News
Professor Richard Weisberg's blog post, "Sandy's Joyfully Divided Soul and a Glimpse at a Constitutional Poethics in View of Roe's Leaked Demise," was published in Balkinization.
Professor Michael Pollack presented his draft, "Sidewalk Government," at the International and Comparative Urban Law Conference at UBC in Vancouver.
Professors Anthony Sebok and Myriam Gilles will participate in panels at New York University School of Law's Class and Aggregate Litigation in Europe and North America Conference.
Professor Deborah Pearlstein's article, "What War Did to the Academy, What the Academy Did to War: A 20-Year Retrospective on the Effects of the Post-9/11 Wars," was published in the Case Western Reserve Journal of International Law. Her article, "Lawyering the Presidency," was also published in The Georgetown Law Journal. The New York State Bar approved the first report of the Task Force on Voting Rights and Democracy, on which she serves, making recommendations to improve election administration in New York state.
Professor Edward Zelinsky's challenge to the New York telecommuter tax was highlighted by Law360.
Professor Alexander Reinert served as co-counsel in a 9/11 detainee abuse case that lead to a rare settlement last week in which the Federal Bureau of Prisons compensated six men detained and abused in a Brooklyn prison in 2001. The lawsuit settlement began as a class-action suit by the detainees against high-level government officials, including then-Attorney General John Ashcroft.