Please join us for a weekly pop-up class exploring LGBTQ+ law, policy, history and civil rights challenges past, present and future with prominent scholars, researchers and movement leaders. Classes are open to everyone and will be held on-site at Cardozo and simultaneously on Zoom. No academic credit will be available. Pre-registration will be required for online participation. 
Dmytro Vovk, Cardozo Visiting Associate Professor will cover Religious Freedom and LGBTQ+ Rights: The European Court of Human Right's Perspective.
Dmytro Vovk runs the Center for Rule of Law and Religion Studies at Yaroslav the Wise National Law University in Kharkiv, Ukraine. He was an expert on human rights and rule of law for USAID, OSCE/ODIHR, Council of Europe and Constitutional Commission of Ukraine.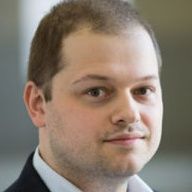 Dmytro Voyk, Cardozo Visiting Associate Professor