Event Details
When
Jun 11, 2020 | 09:00 AM - Jun 12, 2020 | 10:00 PM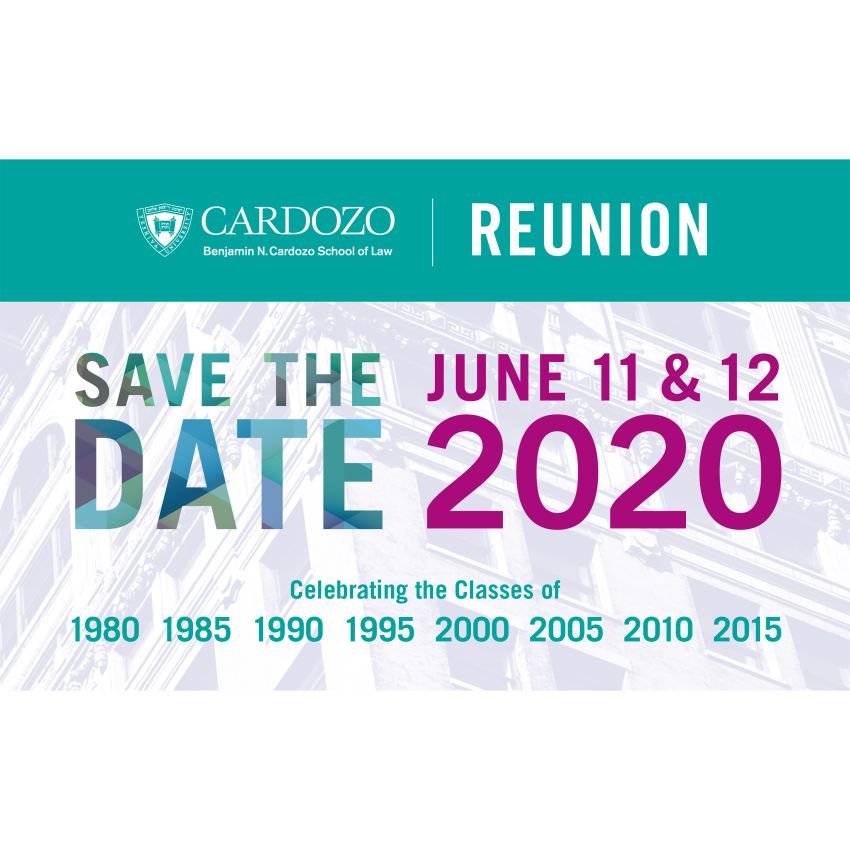 Join us at your upcoming Reunion for a chance to reconnect with your classmates! 
VOLUNTEER
As an active member of your Reunion Committee, you serve as both a class leader and liaison between your peers and Cardozo.
As a Committee member you will be asked to:
Participate in 3-4 conference calls until Reunion in June
Encourage your classmates and friends to attend Reunion and make a class gift
Help personalize programming
Allow the use of your name on Reunion materials
Attend Reunion and make a meaningful gift
Law School staff will provide Committee members with comprehensive and ongoing support by:
Assisting with Committee recruitment
Scheduling conference calls and providing agendas
Providing insights to help committees make decisions and set goals
Review communications from the committee to the class and assisting with the logistical details of distributing messages to your classmates
Recognizing that your time is valuable and there are limitations on your availability given professional and family commitments
MAKE A GIFT OR PLEDGE
Reunion is a special time for graduates to support Cardozo together as a class.
This year marks the anniversary of your graduation from Cardozo School of Law —a time to become reacquainted with the School, renew friendships, and celebrate. Your Reunion year provides an excellent opportunity to support the Law School in a way that is personally meaningful to you.
All gifts received by June 30 of your Reunion year will be counted in full toward your class gift. If you have any questions or are interested in making a planned gift, please contact Nancy Kominsky, Stewardship Officer, at 212.790.0829 or kominsky@yu.edu.
You can make your gift online HERE or mail a check payable to Benjamin N. Cardozo School of Law to:
Benjamin N. Cardozo School of Law
Institutional Advancement and Alumni Affairs
P.O. Box #21801
New York, NY 10087