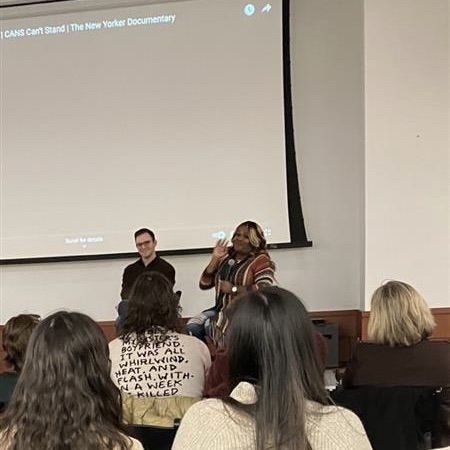 Cardozo's OUTLaw, the student organization serving LGBTQ+ law students and their supporters, sponsored a screening of an award-winning documentary that follows a group of Black trans women in New Orleans who are fighting to repeal Louisiana's CANS (Crime Against Nature by Solicitation) law that targets LGBTQ+ people.
 
"CANS Can't Stand" was screened at the law school on March 8 and was followed by a talk with one of the filmmakers, Matt Nadel, and Wendi Cooper, an activist featured in the short film who founded an organization fighting to overturn the law.
 
In 1982, Louisiana's state legislature passed a law targeting the LGBTQ+ community. Prostitution was a misdemeanor in the state, but CANS made homosexual sex in exchange for money a felony punishable by up to five years in prison and hard labor.
 
A decade later, the penalty was made harsher: Those convicted as homosexual prostitutes were forced to register as sex offenders.
 
Nadel told the audience that he and co-producer Megan Plotka made the film to strengthen the CANS Can't Stand movement. The awards it won in festivals and write-ups in The New York Times and The New Yorker helped the issue come alive. 
 
The legal community gave the movement a lot of attention in its early victories -- downgrading the crime from a felony to a misdemeanor and removing people convicted under CANS from the sex offender registry.
 
Nadel said other topics, including expunging the felony convictions from people's records and removing those convicted before 2011 from sex offender registries, still need to be addressed.
 
3L Richard de Schweinitz, a member of Cardozo's OULaw and the president of the Art Law Society, said he was glad to see the film at Cardozo in light of the legal struggle at the undergraduate school over making space for an LGBTQIA+ club. "I learned a lot about the law -- in both its archaic and progressive capacities," he said. "What I really appreciated most was the space it made for Black trans women's stories."
 
One student asked Cooper how the treatment of trans women has changed since her conviction in 1999. Cooper said that things have slowly been getting better as a growing progressive movement has allowed trans women to have more of a voice.