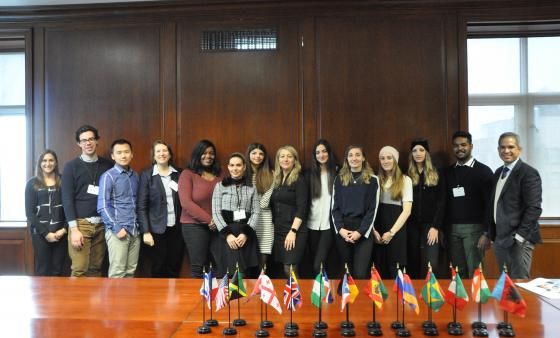 Students pursuing LL.M. degrees began their Cardozo journey this week, as they arrived for orientation and the start of their academic program.
The group hails from a range of countries including Albania, China, France, India, Israel, Italy, The Netherlands, The Philippines, Russia, Spain, Turkey and the United Kingdom.
"We're very excited to have welcomed the new Spring LL.M. class to Cardozo this week," said Valbona Myteberi, Cardozo's Assistant Dean of Graduate and International Programs. "These new bright students from 13 countries will share their diverse experiences in our classrooms, and will further enrich Cardozo's innovative programs."
The students spent the week getting acclimated to Cardozo, meeting professors and administrators and touring the facility. Licelle Cobrador '08 and Danielle Pomeraniec '16, co-chairs of the Master Alumni Community, joined the students for a reception.