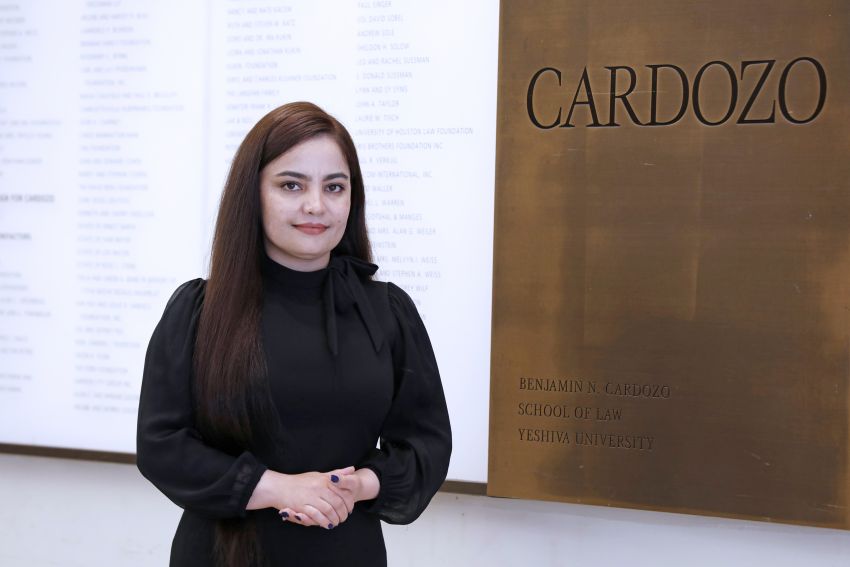 After a harrowing escape from her war-torn homeland, Nargis Baran, an Afghan legal professional, started a new journey this spring with help from Cardozo, Brooklyn Law School and Fordham Law School. 
In 2018, Baran returned to Afghanistan from the United States with an LL.M. degree from Ohio Northern University in Democratic Governance and the Rule of Law. It was her hope to use her legal training to develop a thriving democracy in her homeland.  
Baran got a job in Kabul as a legal specialist at the largest international bank in the country, having studied banking law, commercial law and employment law. In addition to her full-time job, Baran began working with the Afghan-US Law Alumni Association's Public-Private Partnership for Justice Reform in Afghanistan. This work involved training judges and prosecutors on modern law and technology, government reform and the rule of law.  
"I was extremely hopeful," she said. She felt that with the international community's support and the United States military protections, Afghanistan was entering a new era. 
Then, on Aug. 15, 2021, the Afghan government collapsed, ceding power to the Taliban.  
"I was preparing training materials for the prosecutors in the attorney general's office. I was looking out from my balcony and saw people just running. I turned on my mobile and saw that the government had fallen to the Taliban," Baran recalled. "For five or six hours, I was just sitting, stunned. My mom said, 'They have captured the government.' We sat alone in our apartment. No males in the house. It was very scary."  
The next day, Baran called her boss at the bank to ask whether she should come to work. "Are you kidding?" he said.  
The bank's operations were in disarray, and there was concern that if women were seen working, the office would be shut down.  
"Even now, I cannot believe it," Baran said from her office at Cardozo. "I was in a state of shock."  
Baran, her husband and her mother were forced into hiding and prevented from escaping the country by Taliban gunmen. She remained in Afghanistan until Oct. 18, 2021, when she was able to flee. 
Her first attempted escape came when a U.S. colleague arranged for 10 scholars and their families to get to the airport. They walked for four hours but arrived to find the Taliban soldiers shooting and preventing people from going into the airport. Determining that the risk to their lives was too great, they walked back home.  
Their escape finally took place in October when the family went to another province, where they were able to get on a bus with nothing more than one backpack and travel documents. U.S. State Department operatives put Baran and her family on a plane, without her knowing where it was headed. They landed in Abu Dhabi and were sent to a refugee camp, where they lived in a one-room apartment for more than a year.  
A coalition of legal experts and law schools, including Cardozo, from across the United States worked for months to help Baran and 95 other Afghan legal scholars escape and find stable residency elsewhere. They found fellowship placements for the scholars that would give them employment at universities throughout the United States and pave the way for work visas. Working across disciplines, time zones and mountains of paperwork, the collective effort found placements for the 96 scholars. In May, Baran began her fellowship at Cardozo. 
Cardozo's Dean Melanie Leslie worked with the deans of Brooklyn Law School and Fordham Law and mobilized the Cardozo administration and the Yeshiva leadership to create the fellowship and make necessary arrangements.  
Associate Dean of International Programs, Val Myteberi, communicated frequently with Baran in Abu Dhabi and tried to help keep her spirits up, while working on the extensive paperwork that was required.  
Professor Edward Zelinsky also played a decisive role. His son, Aaron, who formerly worked for the State Department, helped make the connection to Cardozo. 
Brooklyn Law School held open a three-bedroom apartment for over a year in anticipation of Baran's and her family's arrival. The family was welcomed into the law school housing this spring. Fordham Law School also played a critical part in the rescue plan, contributing funding and other support. 
Baran, along with her husband and mother, is acclimating to life in Brooklyn. In her work for Cardozo, she will be conducting scholarship in her area of law, with hopes to teach commercial law in the United States after her fellowship ends. 
"We are so happy that Nargis and her family are finally here, in New York at Cardozo," Leslie said.  
Myteberi said, "There are people in similar situations who may not be able to enter the country for years. It puts things in perspective when you see the importance of the work we do to help." 
Baran said, "I am so grateful to everyone at Cardozo and to those who helped us escape. My wish is to continue working in education and to someday have a role in the spread of democracy in the world."