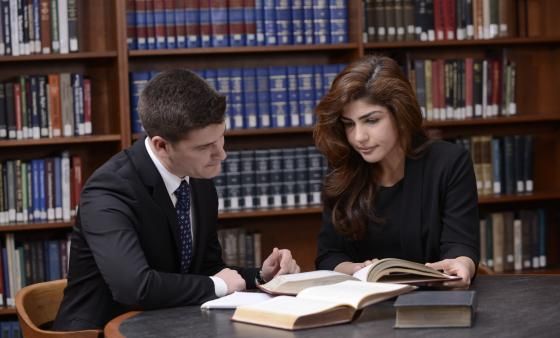 Cardozo's ITRANS program, an innovative two-week immersion course in which students gain essential transactional skills needed for effective client representation, just completed its sixth year, with 31 students participating. The course's structure sets up a mock deal; students, divided into teams, work on executing the deal, utilizing skills including contract drafting, transactional issue analysis, negotiations, client communication, matter management, due diligence, preparation of closing documents and client service, all through an interactive workshop process that is guided and critiqued by experienced attorneys.
"ITRANS is a bespoke course that uniquely integrates substantive topics that are normally taught in a siloed fashion, including Corporations, Securities Regulation, Negotiations and Contract Drafting," said Professor Michelle Greenberg-Kobrin, Director of the Indie Film Clinic who co-teaches ITRANS with Professor Jillian Gautier, Program Director of the Heyman Center on Corporate Law and Governance. "Transactional lawyers have to integrate law and skills from a number of disparate subject areas and disciplines, and our hands-on approach is a practical way to provide students with an intensive transactional experience."
Members of Cardozo's faculty, as well as experienced lawyers in transactional practice including in-house counsels of such companies as HBO and American Express and partners at large law firms, play the roles of clients, coaches and observers. They meet with students in groups and one-on-one to provide detailed feedback.
Professor Gautier commented that, "ITRANS is so impactful for our students because the intensive two-week format allows us to fully immerse the class in a mock M&A transaction and mimic the fast pace of transactional corporate practice. The students work together in deal teams on tight deadlines to produce realistic work product, and they receive coaching and feedback not just from us as professors, but also from experienced attorneys practicing at top law firms and in-house."
This year's mock deal focused on a take private transaction by a private equity fund of a public tech company with a visionary founding CEO. After execution of the Merger Agreement, new regulatory hurdles are discovered, as well as a data security breach. The parties worked through renegotiation of some of the key terms of the deal. Each team consulted with their respective client and prepared either an amendment to the Merger Agreement to address these new developments or an employment agreement. Students responded with mark-ups and negotiated to finalize the amendment in preparation for closing.
Eitan Bender and Eliza Sayedy are 3L students and ITRANS participants. Bender said, "I was able to significantly improve and enhance my negotiation and transactional skills only within 10 days. Professors Greenberg-Kobrin and Gautier fostered an environment that allowed us to learn about an incredibly important subject area through hands-on exercises. The program as a whole flew by, but the knowledge and skills I got from it will remain with me for the remainder of my legal career. I highly recommend this course to any student with an interest in transactional law."