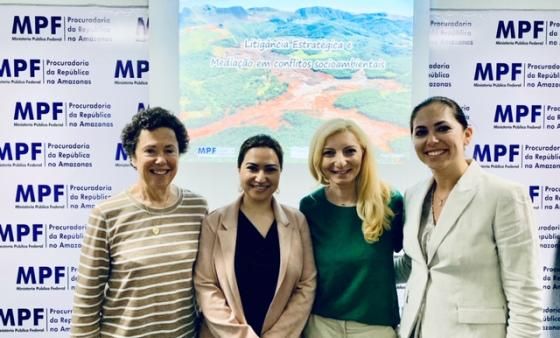 Professor Jocelyn Getgen Kestenbaum, director of the Benjamin B. Ferencz Human Rights and Atrocity Prevention Clinic and Professor Lela Love, director of the Kukin Program for Conflict Resolution, traveled to Amazonas, Brazil in February to train federal prosecutors. They conducted an intensive two-day training on strategic advocacy and mediation in social-environmental conflicts, with one day focused on litigation and one on dispute resolution.
The federal prosecutors protect the indigenous people and lands in the Amazon. 
Cardozo LLM students Medea Matiashvili and Ahdieh (Ati) Alipour Herisi also joined in the program. After two days of training, Professors Getgen Kestenbaum and Love accompanied the federal prosecutors to a genocide reparations court hearing in the Amazon, followed the next day by a legal strategy session on controlling illegal mining and lumber operations. 
Kestenbaum noted that the Bolsonaro government has stepped up pressure against this community. The Human Rights and Atrocity Prevention Clinic will write an amicus to assist in the international law on genocide and reparations for genocide.