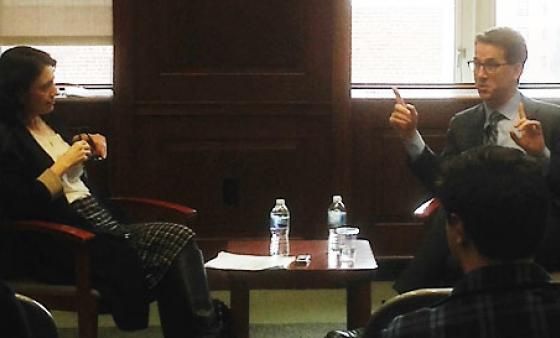 Duncan B. Hollis, Professor of Law at Temple Law School, talked election hacking, fake news and setting global cybersecurity standards at "The Emergence of Global Cybernorms" event on Thursday. Floersheimer Center for Constitutional Democracy Co-Director and Cardozo Professor Deborah Pearlstein led the discussion. The event was also sponsored by the Cardozo Data Law Society.
Hollis mentioned many of the threats present in today's cybersphere, including the increasing absence of humans in technology.
"Machines can write their own malware," Hollis said. "Errors are inevitable."
The talk centered on the Paris Call for Trust and Security, which aims to set international standards for cybersecurity.
In attendance were many experts in technology and diplomacy including Mark Simonoff, Cardozo Adjunct Professor of the course "Law and Practice at the UN,"who shared his United Nations expertise in how countries could communicate with each other. Although both Simonoff and Hollis agreed that the current situation was a "mess."
"Some of this is to navigate out some rules of the road," Hollis said. "We're moving pretty fast."