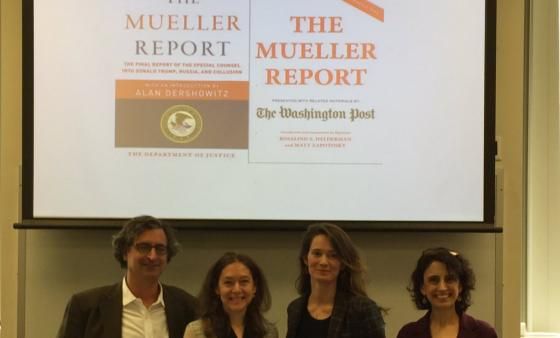 The Floersheimer Center for Constitutional Law and the Burns Center for Ethics in the Practice of Law hosted a panel titled "Unpacking the Mueller Report" with Cardozo professors offering their analysis on the investigation and aftermath.
Professor Jessica Roth offered her perspective on the criminal angle of the report, focusing on the possible presidential conspiracy with the Russian government and obstruction of justice. Although Mueller didn't find sufficient evidence, Roth acknowledged what she called the "remarkable coincidences" noted in the report.
Floersheimer Center Co-Director Deborah Pearlstein also discussed the uncertainty of criminal findings. "Why did they share all that campaign data?" Pearlstein asked. "The report doesn't answer those questions at all."
Professors Anthony Sebok and Kate Shaw also weighed in. Sebok explored the role of ethical conduct amongst lawyers and Shaw brought up the question of the constitutionality of indicting a sitting president.
The professors fielded questions from the packed room of students.
"We're all very much still digesting," Shaw said of the report. "What next, what now?"