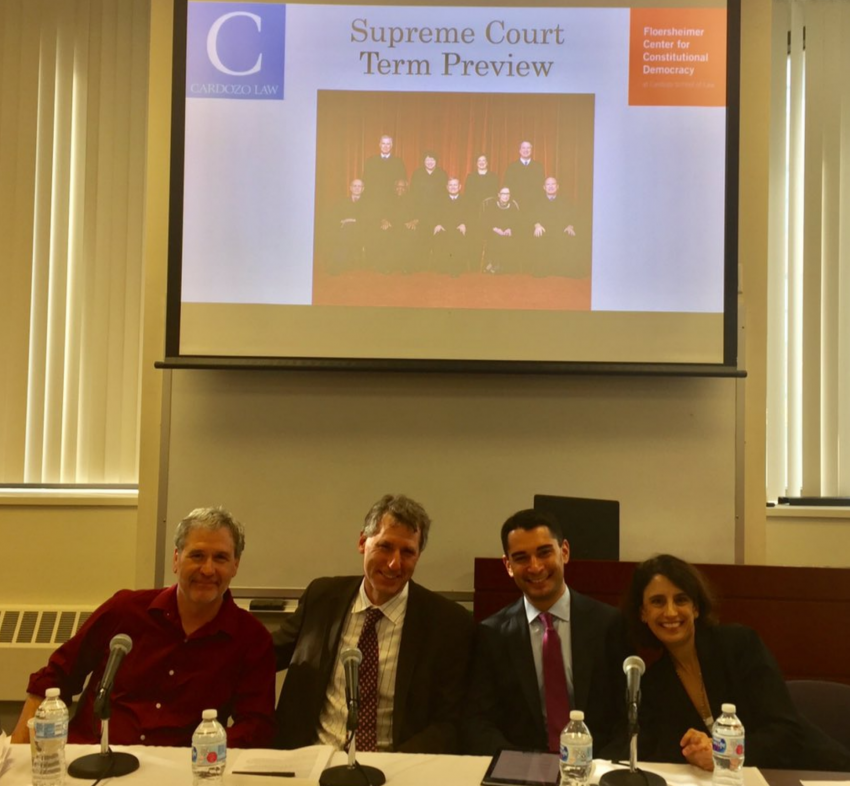 The insanity defense, immigration and the definition of "sex" were a few of the topics covered in the Floersheimer Center's "What's on the Docket: A Supreme Court Term Preview" on Wednesday. Professors Deborah Pearlstein, Michael Pollack, Kyron Huigens and Alex Reinert summarized some of the most controversial cases the Supreme Court is facing this term and offered their analysis on their deeper legal ramifications.
Professor Pollack started the discussion with Bostock v. Clayton County, which asks whether sexual discrimination is covered under Title VII of the Civil Rights Act of 1964.
"Is sexual orientation discrimination part of sex discrimination?" Pollack said, arguing that it is because it's an "inherent element."
Pollack said the case is bringing out both conservative and liberal interpretations of the Civil Rights Act. He said at the time Title VII was written, the definition of "sex" was limited to biological males and females, but the intent was not discriminatory. It is "inconceivable" that Title VII deliberately left out members of the LGBT community, Pollack said, arguing for an interpretation to fit today's society.
"Employees feel they're being punished for not adhering to a [sex-based] stereotype," Pollack said.
Professor Reinert covered Hernandez v. Mesa. The defendant is a border patrol agent who shot and killed a Mexican national on Mexican soil. Reinert said the issue is "the right to sue" not the conduct and "whether or not federal officials are ever going to be held liable for violation of the Constitution."
Reinert analyzed whether Hernandez v. Mesa is entitled to a remedy under Bivens v. Six Unknown Named Agents, which set a precedent for suing federal agents for violating the 4th Amendment.
Reinert said limiting the Bivens remedy is an issue that has united both Democrats and Republicans, making Hernandez v. Mesa a "critical decision" in the rule of law.
Professor Pearlstein explored the Deferred Action for Childhood Arrivals (DACA) cases before the Supreme Court this term. DACA allowed children of undocumented immigrants to stay in the United States. Pearlstein said President Trump "acted on an erroneous view of what the law required" when he rescinded DACA.
"What kind of reasons does the executive branch have to provide before changing the rules?" Pearlstein asked, adding that the cases will reveal the "constraints on executive decision making."
Professor Kyron Huigens discussed Kahler v. Kansas, which poses whether a state can abolish the insanity defense. Huigens said the case reveals the broader trend of using mental illness to negate the intentions of a crime, and using mental illness and insanity interchangeably.
"The thing is, they're not the same at all," Huigens said. He said the insanity defense is based on the "capacity to understand right and wrong." To plead insanity, there must be no intent to commit the crime and no capacity.
This event was co-sponsored by the Cardozo chapters of the American Constitutional Society and the Federalist Society.