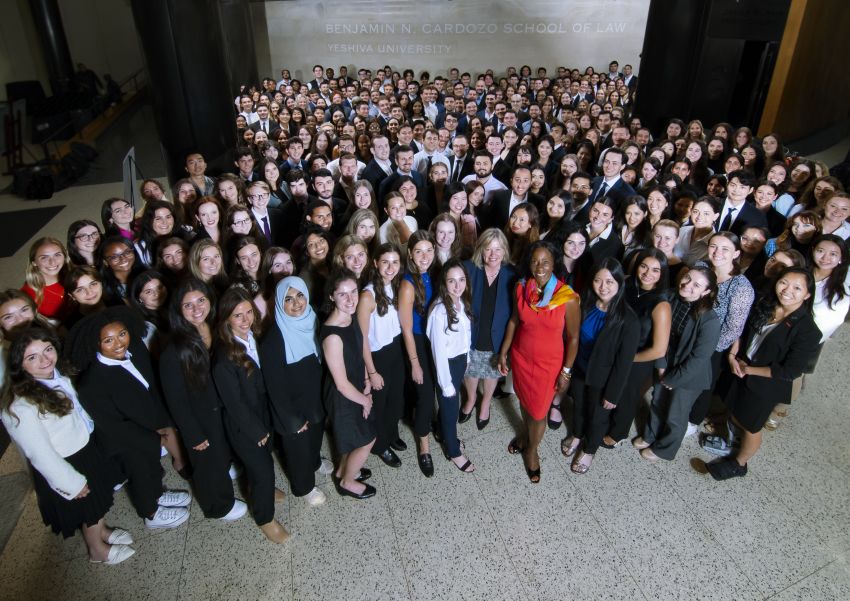 Cardozo welcomed the J.D. Class of 2026 and the largest LL.M. class in its history during a busy and festive Orientation that concluded this week. Students came from all over the country and around the globe, including South Korea, Ghana, France and Israel, to study in New York. 
Jeanne Widerka, the associate dean of admissions, highlighted the wide variety of experiences the J.D. class drew from, including a former pastry chef, a paratrooper, crisis center workers, accountants, research analysts and journalists. Their academic credentials are equally impressive, with an average LSAT score of 164 and GPA of 3.79, the highest in recent years. 
Dean Leslie, who is herself an alumna, spoke of her transformative time as a law student and advised the students to "make this journey joyous. It is an investment – of money, of time, of mental and emotional resources. So, make it your own" 
The dean went on to say, "we chose you because we believe in you. We know you have what it takes. Embrace this new adventure with joy. Give it your all. You'll be forever changed." 
Students also heard from Jenn Kim, associate dean of admissions, and several alumni who have been in their shoes before. LL.M. students were welcomed by Associate Dean Val Myteberi and keynote speaker alumni Rob Doerfler '07, in-house counsel at Mars Inc., one of the largest privately held companies in the country. The J.D. students heard from several current students as well as keynote Parvin K. Aminolroaya '08, a partner at Seeger Weiss, who stressed the value of the Cardozo community and the connections they can find for support in their careers. 
As all Cardozo graduates remember, students started their careers with the unique Cardozo class, Elements of Law, taught this year by Professor Michael Herz, who co-wrote the Elements book with Emeritus Professor Eva Hanks. Also teaching the course are Professor Leslie Newman and Professor Ed Stein. 
On the last day of Orientation, Justice Dianne T. Renwick '86 administered the law student oath to the assembled class in the Third Floor Lounge. Justice Renwick is the Presiding Justice of the New York State Supreme Court, Appellate Division, First Department, a devoted Cardozo alumna and Cardozo Board of Overseers member. In remarks before giving the oath Justice Renwick spoke warmly about the Cardozo experience and the welcoming community of students, faculty and administrators.  
On Friday, after a packed orientation schedule, students head to Chelsea Piers for the annual boat ride around lower Manhattan, getting to see the city that they will make their home over the next several years.