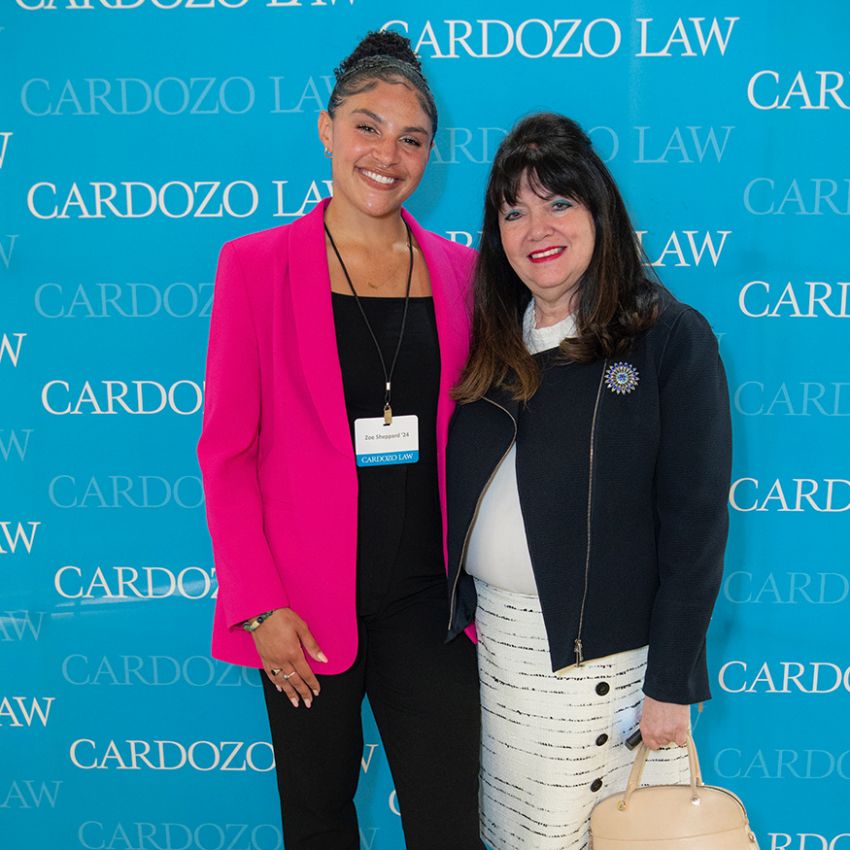 On April 18, Cardozo held a warm and festive Donors & Scholars Cocktail Reception. The annual event brought together outstanding students who have benefited from scholarship and stipend support wth the generous donors who make it possible. 
Dean Melanie Leslie '91, 2L Zoe Sheppard and Shoshana Bookson '82 each spoke of the critical importance to students and the tremendous value of giving back to the Cardozo community. 
During her remarks, Bookson, a Partner at the Law Offices of Shoshana T. Bookson and the Chair of the Cardozo Women's Alumni Group, congratulated Zoe Sheppard and reflected on her time at Cardozo and why she felt it was important to give back to the Cardozo community, saying, "giving to a school like Cardozo is a way to not only feel good about what you've done here and what you've experienced here, but is a way of saying to future classes that 'I want to help you make the choices that you really want to make, separate from whatever financial cost they may have.'" 
Sheppard, who is a recipient of the Cardozo Women's Scholarship, spoke about her experience at Cardozo. She said it has been shaped by the Gates Scholars Program, which allowed her to be mentored by fellow students from marginalized backgrounds during her 1L year and give back by mentoring current 1L students, as well as the scholarship and funding she received. 
"I wouldn't be here if it wasn't for the support I received from the Cardozo Women's Scholarship," Sheppard said. "I had really dreamed of pursuing law school, but because of my background, I never knew how I would be able to afford it. I was terrified of incurring tuition debt or having to work full time and worried about how that would take away from the work I was able to do on campus. The scholarship that I received really got rid of all those concerns." 
The night also honored and recognized the David Berg Foundation, the largest supporter of the Public Service Summer Stipend Program, who have donated 2.5 million over 22 years for students pursuing these stipends. 
"One of our important initiatives is the Public Service Summer Stipend Program, which provides support to a growing number of Cardozo students who accept otherwise unpaid jobs in public interest organizations and agencies, government and the judiciary and in providing legal services to the underserved," Dean Leslie said. "Stipend funding allows our students to accept these positions, follow their interests and gain invaluable experience." 
Alongside Sheppard and Bookson, many other students also got to meet the donors who supported their scholarship. 2L Christian Marshall was able to meet Stephen Breitstone '82, who funds his family scholarship, The Stephen M. Breitstone Scholarship Fund. 3L Shelley Wu was able to meet Barbara "Bobbie" Seril, who funded The Honorable Sandra J. Feuerstein Scholarship, named in honor of the late justice. Seril was a close friend of the late Judge Feuerstein '79, who was tragically killed in April 2021. Her family created this endowed scholarship in her memory, and Wu is the first student recipient of the scholarship. 
"Scholarships are crucial in bridging the gap for so many deserving students by providing essential funding that affords them the ability to pursue a legal education," said Dean Leslie. "Scholarship support is a reflection of our donors' and alumni's commitment to equity and inclusion in the legal profession."