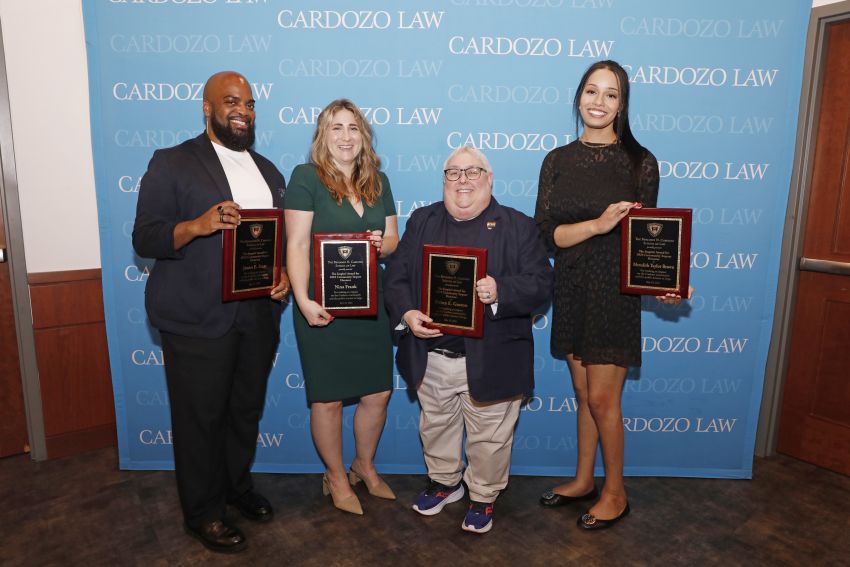 Cardozo's Center for Public Service Law celebrated the Inspire! Awards on May 23, a yearly event that honors students, alumni and community leaders who have made strides in public service over the past year. This year's ceremony celebrated those who work to protect and advance the rights of marginalized communities in the public and private sectors. 
Zach Dugan, Assistant Director, Career Services and Center for Public Service Law, welcomed the attendees both in-person and on Zoom, saying to the nominees, "thank you for the light you bring to the legal profession, your countless clients, families and communities, past, present and future." 
The Center's Community Impact honorees included Nina Frank '11, Counsel at Outten & Golden LLP; Taylor Brown '17, Staff Attorney in the ACLU's LGBTQ & HIV Project; Deb Guston '88, Partner at Guston & Guston LLP; and Jason Starr '10, former and founding Director of Litigation and current Senior Strategist at the Human Rights Campaign. All the honorees have spent their careers fighting for LGBTQ+ rights in the legal world and beyond. They also participated in Cardozo's alumni panel, "Making a Career Working for LGBTQ+ Rights", sponsored by OUTlaw and moderated by Dean Melanie Leslie in February. 
Dean Leslie congratulated the awardees by saying, "you are making a tremendous difference in the world. These are difficult times. There is a lot of polarization and a lot of challenges, like bigotry and hatred, but knowing that you are making a difference in the lives of the people that you touch means so much to all of us here at Cardozo. We are all so grateful to play even a small role in supporting or enabling the work that you do. You give us hope for the future, and it is our pleasure to honor you tonight." 
A complete list of awardees can be found below:
Community Impact Honorees 
Nina R. Frank '11, Outten & Golden LLP 
Taylor Brown '17, ACLU LGBTQ & HIV Project 
Deb Guston '88, Guston & Guston, LLP 
Jason Starr '10, Human Rights Campaign 
Student Service Awards 
Emma Bratman '25 
Tanuja Gupta '25 
Gowri Cheepurupalli '24 
Rachel Barkley '24 
Shelley Wu '23 
Peri Feldstein '23 
Champions of Change Awards 
Davis Villano '23 
Zoë Glaser '23 
Molly Dower '23 
Leaders in Service Awards 
Christopher Alexander '23 - Pro Bono Scholar 
Stephen Cucolo '23 - Pro Bono Scholar 
Juliana D'Alleva '23 - Pro Bono Scholar 
Zoë Glaser '23 - Pro Bono Scholar 
Abraham Hoffman '23 - Pro Bono Scholar 
Katherine Jenkins '23 - Pro Bono Scholar 
Meghan Kacsmar '23 - Pro Bono Scholar 
Jennifer Mikhaylov '23 - Pro Bono Scholar 
Alexis Narotzky '23 - Pro Bono Scholar 
Sharon Shimonova '23 - Pro Bono Scholar 
Tatsiana Zhuk '23 - Pro Bono Scholar 
Shelley Wu '23 & Briann Ricks '24 - Courtroom Advocates Project 
Bailey Cook Dailey '24 - Suspension Representation Project 
Chris Chuang '24 - Suspension Representation Project 
Tara Ansari '24 - Suspension Representation Project 
Chelsea Hill '24 - Unemployment Action Center 
Julia Mark '24 - Uncontested Divorce Project