Cardozo Reunion: Homecoming 2022 will take place November 14 – 17. We look forward to welcoming alumni back to campus and celebrating members of the classes ending in 2, 3, 7 and 8. Reunion will feature the Alumni Association Annual Meeting, a Distinguished Lecture Series with esteemed faculty speaking on a range of topics, in-person events around Times Square, opportunities to connect virtually and end with The Dean's Cocktail Reception.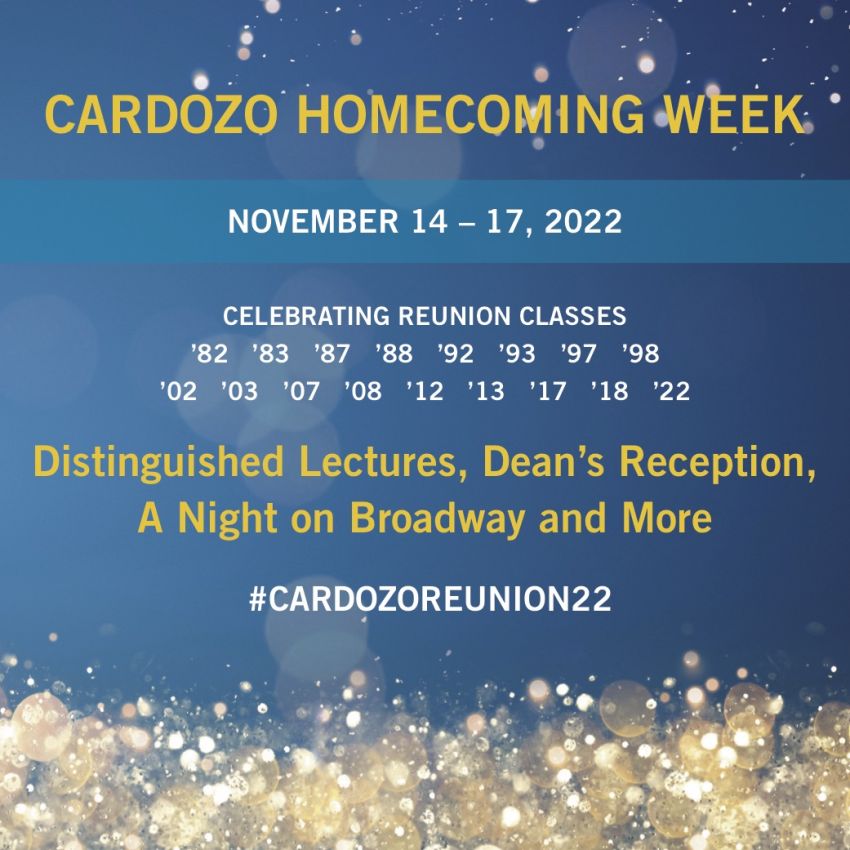 Thank you to our Presenting Sponsor Seeger Weiss LLP for their generous support.
Reunion Package Includes:
Reunion Package Price: $100 ($50 is designated as a gift to Cardozo) 
Reunion Package Plus Guest Price: $200 ($100 is designated as a gift to Cardozo) 
Class of 2022 Reunion Package Price: $50 ($25 is designated as a gift to Cardozo) 
Class of 2022 Reunion Package Plus Guest Price: $100 ($50 is designated as a gift to Cardozo) 
*A la carte events are priced individually (see below)
Alumni Association Annual Meeting: RISE UP for Cardozo
Monday, November 14 
6:30 – 8:30 p.m. 
Cardozo MCR and Lobby or participate virtually 
This is a terrific opportunity to come back to Cardozo, meet the Alumni Association's Leadership, connect with fellow alumni and hear from Dean Melanie Leslie '91 who will share her plans for moving Cardozo forward. A light reception will follow.
*This event is open to all alumni. For those not in a reunion year, you will receive a separate email invitation.
Distinguished Lecture Series (3 Sessions):
*For all sessions, alumni can join in-person at the Cardozo MCR or participate virtually
Session 1: The MetaBirkins Case and Trademarks in the Metaverse with Felix Wu, Professor of Law and Faculty Director of Cardozo Data Law Initiative
Tuesday, November 15 
5:30 – 6:15 p.m. 
Session 2: The Supreme Court's 2022 Term with Kate Shaw, Professor of Law and Co-Director of the Floersheimer Center for Constitutional Democracy
Wednesday, November 16  
12:00 – 12:45 p.m.  
Session 3: Taxing Interstate Remote Work After Covid: Zelinsky on Zelinsky with Edward Zelinsky, Annie and Morris Trachman Professor of Law
Thursday, November 17  
12:00 – 12:45 p.m.  
Dean's Cocktail Party
Thursday, November 17  
6:30 – 8:30 p.m.  
City Winery New York
25 Eleventh Ave
New York, NY 10011
A La Carte Options:
*These events can be added for an additional cost
A Night on Broadway: Moulin Rouge  
Tuesday, November 15
7:00 p.m. 
Al Hirschfeld Theatre, 302 W 45th Street, New York, NY 10036 
Ticket Price: $109 per person 
See a Broadway show with other Cardozo alumni. *Tickets are limited. 
Virtual Trivia Night – A Game Show Extravaganza
Tuesday, November 15
8:00 p.m. 
Virtual Event through Meet Virtually 
Ticket Price: $50 per person 
How about some friendly competition? Show your game skill games in Wheel of Fortune, Family Feud, Where in the World, Trivia and Name That Tune. Participants will be put into teams in different breakout rooms, each with its own moderator, for each round of game play fun. Teams return together to the main room as the evening's emcee provides updates on team scores. Teams play a different game in each round and the members from the winning team win Cardozo swag! *Space is limited. 
 
A Virtual Evening with Broadway Stars from Hadestown
Wednesday, November 16 
5:30 – 6:30 p.m. 
Virtual Event through Meet Virtually 
Ticket Price: $60 per person 
Winner of 8 Tony Awards including Best Musical and the Grammy Award for Best Musical Theater Album, Hadestown intertwines two mythic tales — that of young dreamers Orpheus and Eurydice, and that of King Hades and his wife Persephone — as it invites you on an unforgettable journey to the underworld and back. Join us for a virtual conversation with cast members of the show and hear them perform two songs.  
 
THE RIDE Tour Experience
Wednesday, November 16 
7:00 – 8:15 p.m. (Guests must arrive by 6:45pm)   
Departs and Returns from West 45th Street (between Broadway & 8th Avenue). 
Ticket Price: $40 per person 
THE RIDE is an interactive and immersive entertainment experience that turns the streets of New York City into a stage. Part sightseeing tour and part show, you will see iconic landmarks unfold before your very eyes with live street performances stationed along the way. Attend with a classmate or meet other alumni on this tour reserved exclusively for Cardozo. 
Reunion Class Challenge
Rise Up with Cardozo and join a little friendly competition. All celebrating classes will compete in a fundraising challenge. The goal is for each class to achieve a 50% participation rate with members making a gift in honor of Reunion. The dollar amount of the gift does not matter! The class with the highest number of donors will be crowned the winner and will be commemorated with a plaque to be hung at Cardozo for one year – as well as securing bragging rights and lots of kudos on social media! Make a Gift.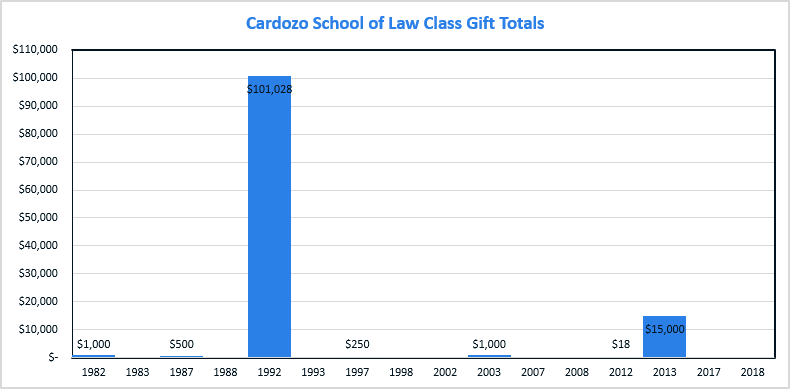 2022 Reunion Committee
Class of 1982   
Bruce Birnbaum  
  
Class of 1983   
Harold Kronberg  
Risa Wasserman  
  
Class of 1987   
Sandford Hausler  
Randa Maher  
Karel L. Turner  
Class of 1988   
Mark Osherow  
Class of 1992   
Melanie Brill  
Jeff and Shari Fishman  
Stanley Goos 
Barry Negrin  
  
Class of 1998  
Vincent Roldan  
  
Class of 2002  
Aaron Strauss  
Christopher Van de Kieft  
Class of 2003  
Joanna Garelick Goldstein  
Class of 2007   
Bradly Bartolomeo  
Liana Walczak (Co-Chair)  
Class of 2008  
Jason Auerbach  
Katie Barbieri  
Stephanie Knepper Basman  
Chris Migliaccio 
Jennifer Miler   
  
Class of 2012   
Martina Davis  
David Reap    
  
Class of 2013  
Danielle A. Noel  
Shmuel Winiarz   
Class of 2017   
Sam Dobre  
TaLona Holbert  
Lauren Myers (Co-Chair)  
Diana Poussin  
Kelsey Weiner   
  
Class of 2018   
Julia Cagin  
Jackson Kerr  
Class of 2022
Contact Us
For more information about 2022 Reunion, please contact Emily Snider, Associate Director of Alumni Affairs, at emily.snider@yu.edu or (646) 592-6875.